Dancing Sri Lankan lizards commended in Comedy Wildlife awards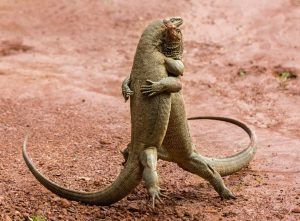 A picture of two Sri Lankan land monitor lizards seemingly intent on a dance lesson has been Highly Commended in this year's Comedy Wildlife Photography awards.
The photo was taken in Wilpattu game park by Sergey Savvi of CWPA / Barcroft Images.
Sadly the dancing lizards lost out to a surprised squirrel.
There are two types of monitor lizards in Sri Lanka, the land monitor and the water monitor.
The common land monitor is normally found in hot lowland country of Sri Lanka. Farmers encourage them to wander around their fields as they eat vermin such as mice as well as ants, fruit, frogs, spiders, scorpions, beetles, grubs and if they can catch them, bats.
As the picture illustrates only too well, they can weigh over 10 kgs and reach just under 5 ft and are among the largest lizards in the world.