Bartenders from the Heritance hotel chain in Sri Lanka win honours at National Bartenders Cocktail and Flair Competition 2012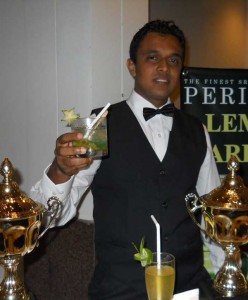 No visit to a tropical country is ever complete without a tropical cocktail like a Pina Colada or Mojito, and with the need have the right mix of flair and knowledge to create some of the endless cocktail options available, two teams of upcoming bartenders from the Heritance Kandalama and Heritance Ahungalla hotels showed just what they can do when they walked away with key wins at the this year's 'National Bartenders Cocktails and Flair Competition 2012'
The event, organized by Ceylon Hotel School Graduates' Association featured over 300 participants from across the island who showed off their cocktail making skills.
27 year old Indika Kumara Marasinghe won the National Marie Brizard and Skyy Vodka Bar Tenders' flaring competition, and will represent Sri Lanka in the South Asian Regional Bartenders completion that will take place in Singapore. Indika is one of seven participants from the Heritance chain who won honours at the competition.
Flairing is a technique that bartenders use to enhance the overall guest experience by juggling and manipulating bar tools with precision to create cocktails.