EXTRA, EXTRA!
Introducing Sri Lanka's The Cricket Film 2011 Sinhawalokanaya!
'Fox SearchLight Motion Pictures will work with Sri Lanka for the first time in history with this epic saga of Sri Lankan cricket.'
Coming soon…perhaps not to a cinema near you.
By Archie Fellowes
A few weeks ago I accepted an opportunity of a 'supporting artists' role in Sri Lanka Cinema Society's latest offering. Sinhawalokanaya, or simply The Cricket Film 2011 as it is referred to, comes off the back of the relatively bright success of last year's 'Matchan' movie over here in Sri Lanka.
As far as I know, a group of local desperadoes register themselves as the Sri Lankan national handball team to compete in an international tournament in Europe. The squad competes poorly and then flees. Apparently it's based on a true story…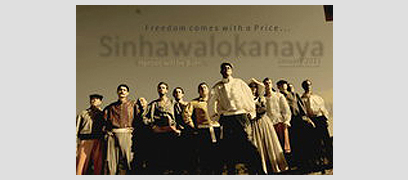 So, what can possibly beat that for silver screen entertainment? The latest offering, with next year's World Cup in mind, is set on a misty tea plantation in 1948. British colonisers stumble across a group of half-cut villagers playing cricket. This is where my aggressively racist fellow Britons are cast. We are challenged to a game of cricket, and so the epic unfolds. I would hate to spoil the story for you, so all I will say is what follows features a monk's secret time machine, Tillakaratne Dilshan, and some colonial humiliation.
Growing up as a boy, Indiana Jones was my hero. So I signed on with these grand visions of emulating the great Harrison Ford in `Indiana Jones: Temple of Doom', which Spielberg shot in Sri Lanka. Incidentally, Ford has since proclaimed Sri Lanka to be one of his favourite countries. In stunning rural surrounds, Dr. Jones returns the missing sacred stones to the devastated villagers only to disappear into the sunset with a tasty blonde on his arm.
My reality was not quite as glamorous. There were no toilet facilities on this secluded set so we held on or used the tea plantation. I bet Harrison Ford got a trailer all to himself. Upon arrival, I was made up and put into a costume that made me look like a Shakespearian eunuch. The costume department missed the period by quite a distance to give the film an unintentional, additional comic layer. I gave the ageing wardrobe manager a bit of attitude. He looked utterly deflated and sheepishly told me in broken English 'but I look up on internet.'
Acting in a Sinhalese film really was an extraordinary experience: disorganised, but brilliantly laid back. I spent a week on a hill somewhere outside Kandy playing hour upon hour of scripted cricket on a team that also included an Estonian, a Swiss, a Pole, a German and an American. My opposition was a collection of Sri Lanka's most celebrated actors, captained by a half-Sri Lankan Hip Hop star from Los Angeles, who is mates with Snoop Dogg and his crew. He was drafted in to make sure this flick hits Cannes film festival next year…time will tell eh?