INSIDE SRI LANKA – A monthly insider's report by Royston Ellis, March 2015.
This month: a brief account of a fascinating place, steeped in history but contributing hugely to modern Sri Lanka's prosperity.
Unknown Sri Lanka: China Fort
It's not a fort and the connection with China is conjecture, but China Fort is a vitally important part of Sri Lanka's economic prosperity as well as a fascinating place to visit. It is the name of an enclave of some 5,000 gem trading residents located behind Beruwala, off the Galle Road on the west coast.
You'll need a three wheeler driver familiar with China Fort to take you through the maze of narrow streets to the area where trading in rough as well as cut and polished precious gem stones takes place every Wednesday and Saturday from 10am to 3pm.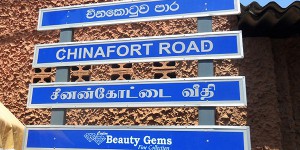 Be warned, this is not a tourist experience: there are no toilet facilities or cafés. What you'll see may seem unimpressive, a crowd of up to 2,000 men most in white sarongs, idling, speaking quietly chatting to others, and then conjuring up white wrappers which they unfurl to yield either a clutch of rough stones or a dazzling precious gem.
Into Africa
China Fort today has boomed because of the new direction the island's gem trade has taken. For centuries, foreign buyers came to Sri Lanka to buy gems, sourcing them at the mining centre of Ratnapura or from the gem cutters and polishers of Galle and Beruwala. The story is told of a China Fort gem merchant flying business class who found himself sitting next to a US scientist. They got talking and the scientist told the gem merchant of satellite pictures that revealed lots of gem-bearing strata in Africa.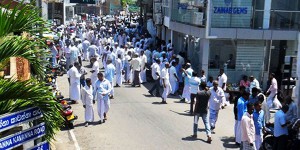 This resulted in the merchants of China Fort looking beyond Ratnapura for rough stones to be cut and polished into precious gems. The adventurous ones braved great hardships to track down gem mines in Africa where they sourced rough stones. It is a risky business even today, not just because of the perils of Africa, but also because even the most experienced of gem dealers is never sure if the rough stone he is buying will yield a perfect gem.
Rough stones from Africa now constitute about 40% of the gems cut and polished in China Fort, then re-exported to buyers around the world. It's hard to believe that the casual business being done in the busy street is the source of such a profitable, international enterprise. But it yields huge revenue for the country.
Trading
While some men hold gems up to the sun, others glance and shake their head. Scarcely a word is exchanged and the ambience is one of dedication and trust. Indeed, when a buyer is offered a rough stone or gem he wants and the price is softly agreed, no money is exchanged. That happens later at the buyer's home.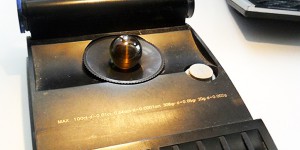 In the past 10 years, recognising that buyers were not just other locals, the gem traders of China Fort have built some 135 air conditioned offices, small cubicles where buyers can examine stones in comfort, without the bustle of the crowd around them. Tourists feel lost here, although it is fascinating to watch the trading take place and realise that business worth millions of dollars is being conducted under their noses.
Carats and rays
One gem merchant showed me a chunky rough, light blue stone that I found quite attractive. "It's worthless," he said when I commented it would look nice on a necklace. "For it to be valuable, we would have to transform it into something like this."
He dropped a cut and polished gem the size of a marble into my hand while a colleague held a specially adapted torch over it. "See the ray," he said as the light picked up the different shades of the stone, an alexandrite cat's eye. It was extraordinary.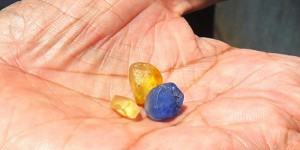 He popped it on to his scale, which showed it weighed 55 carats (a carat is equivalent to 200 milligrams). "That's worth US$15,000 a carat," the dealer beamed, leaving me to work out that I was holding a gem stone worth $850,000.
Exhibition
Sri Lanka is the home of sapphires and the theme of an exhibition and conference being held in Colombo 16 to 19 May is "Sapphires and More." The occasion is the congress of the International Coloured Gemstone Association that has a membership of 500 from 42 countries representing 75 percent of the purchasing power of the international market for coloured gem stones. Traders from China Fort will be there too.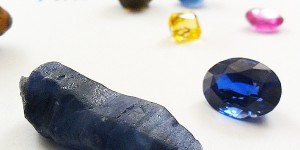 For the layman or woman who wants to purchase gems, you don't have to go to China Fort. Choose a reputable jewellers who will provide a certificate of authenticity with every gemstone you purchase; you can even get stones tested and their genuineness confirmed by independent laboratories in Colombo.
A British resident of Sri Lanka since 1980, Royston Ellis is an erstwhile beat poet and author of "The Bradt Guide to Sri Lanka." His weekly blog about Sri Lanka is available by free subscription from www.roystonellis.com