INSIDE SRI LANKA A monthly insider's report by Royston Ellis, October 2015.
Collecting Ceylon
Ceylon ceased to exist in 1972 when the island's name became Sri Lanka, 24 years after obtaining Independence from Britain in 1948. This year marks the 200th anniversary of the country officially becoming part of the British Empire in 1815, but there are no commemorations of that. However, there are many collectable items that reflect the character of Ceylon – a name that still exists even today. There is the Bank of Ceylon, and I pay my electricity bill each month to the Ceylon Electricity Board.
The very name of Ceylon conjures up the tropical mystique, salubrious climate, tea-clad hills, jungle wilderness, rivers and waterfalls, majestic elephants, broad sandy beaches lapped by the surf of the Indian Ocean, glorious colourful pageants, and the serenity of a tranquil lifestyle. As a name, Sri Lanka conveys a different image although the country is still the same.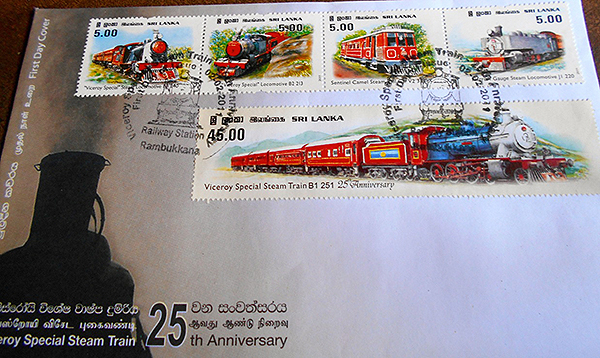 As a boy in England I used to collect stamps and those of Ceylon always fascinated me because of the tropical emblems such as a train passing a temple or an irrigation tank incorporated into the design, as well as the British King's head. Today stamps of Ceylon can only be bought from collectors as they are no longer used on envelopes posted in Sri Lanka.
Modern Sri Lankan stamps seem to lack the charm of the stamps of old – and now people tend to use emails rather than send a letter, so even stamps from Sri Lanka are becoming difficult to find for today's schoolboy philatelist. As most kids do, I gave up collecting stamps when I left school. Now I live in Sri Lanka, however, I find that stamps are a convenient (and not expensive) souvenir of Ceylon.
FDCs
I am building up a collection of First Day Covers (FDCs); envelopes posted on the day of issue of the stamps used on them. These add a story to the stamps on the envelopes with the date of issue being an indelible identification of the age and authenticity of the stamp. The envelopes often have the added attraction of a pictorial design that complements the stamps.
It seems to me important when collecting FDCs to concentrate on envelopes that have actually been posted from Ceylon to an address, either overseas or in the country, written on the envelope. There are FDCs with no address and with stamps that have been franked at the post office philately shop and not actually posted anywhere. These are commercially produced to meet a certain market demand and I suppose you could write in your own address afterwards and pretend it was posted to you.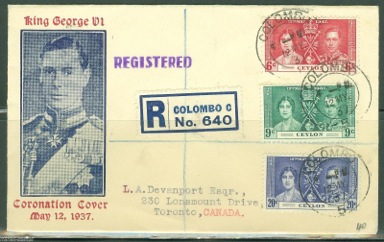 If you are going to start collecting FDCs from Ceylon, set your own parameters, otherwise you will go for everything that has ever been issued and your collection will not have much value. My advice is (1) Specialise in FDCs dated before Independence; (2) collect only FDCs that have actually been posted and received by the addressee; (3) look for FDCs that are picturesque and attractive and will look good when framed; (4) concentrate on FDCs that commemorate a particular historical event, such as the first airmail service between Ceylon and India.
Where to buy FDCs
Don't expect to find pre-Independence FDCs while on holiday in Sri Lanka. The best FDCs are those that have been posted to an address abroad, so visit stamp dealers or rummage through the items in antique shops in your home country. You may find early 20th century postcards from Ceylon with postage stamps in tact. Although not an FDC, a postcard has the attraction of a picture of colonial Ceylon.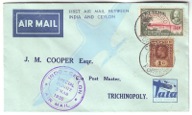 FDCs and stamps are, of course, also available through online auctions and, since they are easy to post to winning bidders, are popular trading items. Expect to pay about £5 for a collectable cover. However, I have seen three samples of an FDC with identical stamps at three different prices ranging from £10 to £30.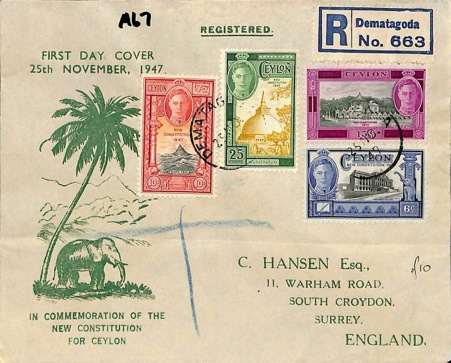 In Sri Lanka it's possible to view facsimiles of FDCs and also of Ceylon postage stamps from the very first issue in the National Postal Museum, which is in the Ministry of Posts at 310 D R Wijewardena Mawatha, Colombo 10. On the same floor is the Philatelic Department where modern FDCs and collections of thematic issues of Sri Lanka stamps can be bought.
Modern FDCs
On occasions I have gone beyond my own guidelines to acquire and keep FDCs issued post-Independence because they complement my interest in other Sri Lankan topics, such as rail (2011) and colonial buildings (2012). I am also the proud owner of an FDC celebrating 50 Years of Communication, 19 February 1999, with stamps bearing two images of Sir Arthur C Clarke.
A British resident of Sri Lanka since 1980, Royston Ellis is an erstwhile beat poet and author of "The Bradt Guide to Sri Lanka." His most recent book is "Cliff Richard and The Shadows, a Rock 'n' Roll Memoir." (Tomahawk Press, UK). His weekly blog is available by free subscription from www.roystonellis.com