My maiden voyage to Jaffna
By Rasitjha Wickramasinghe
A few months ago I realized one of my lifelong ambitions.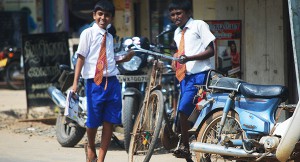 I am 41 years old and lived in Sri Lanka until the age of 18. All that time the furthest north I have been was to Mannar. With the heightening of civil war and the JVP insurrection I was sent packing from my beloved island in 1989. I spent the next 22 years of my life in UK studying, working and then raising my very own family.
The closest I came to visiting the north during this period was when I came on holiday to Sri Lanka in April 2009. The civil war has entered the final stages and greater part of Northern Province was under government control. My uncle had got in touch with some leading businessmen and the military to go and distribute dry rations to civilians who had been displaced and were residing in a transit camp in Vavuniya. I thought this was a wonderful opportunity to help out my fellow countrymen in their hour of need. However, my excitement was short lived as my wife thought that such an adventure was not fitting behavior of a responsible husband enjoying a family holiday. My dream shattered, I was confined to the safety and comforts of Colombo for the remainder of our holiday.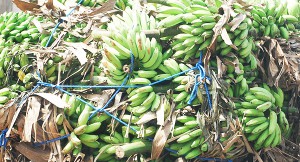 Once I returned with my family from UK in July 2011 to live permanently in Sri Lanka, my dream of visiting Jaffna was rekindled.  Soon this dream was dealt another blow with the untimely death of my beloved uncle who had invited me to go on the Vavuniya trip a couple of years back. He was a larger than life character and had the free spirit and all the right connections to pull off a trip like this overnight.
Nearly 18 months after returning to Sri Lanka I finally got my father-in-law and some close relatives to spring into action and set off on my long awaited adventure, minus the spouses and children. Due to the distance from Colombo and lack of star class hotels (at least that was the perception) we thought this would be the safest option.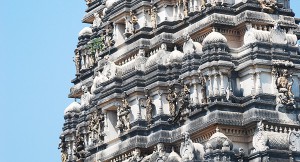 Having left Colombo at 4.30 a.m. (as planned on time, quite an achievement for a bunch of Sri Lankan blokes) our first stop was Dambulla for morning tea. From there onwards we proceeded to Vavuniya via Mihintale. I was now entering territory that I have never entered in my life before. Vavuniya town was greeted with a widened dual carriage way and a string of commercial businesses. We swung past the Vavuniya hospital, where one of my cousins had been a medical intern, towards the high street that was buzzing with commercial activity. The unmistakable Cargill's Food City was an opportunity for my "spirited" friends to stock up goodies including the "amber nectar" that is customary on a long trip like this.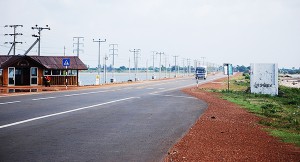 After a brief stop for "brunch" we proceeded further north along the A9. As we pulled away from Vavuniya we came across some road works which stretched for approximately 5 kms. Beyond this stretch the remaining 100 plus kilometers of road surface all the way to Jaffna city was immaculate and is one of the most enjoyable drives that I have experienced in my life.
Along the way one of the first things that came to my attention was the brand new power lines (laid well away from the road leaving provision for future expansion of the A9) that is now lighting up the lives of many thousands of civilians, blacked out during the dark days of war. Then came advertising hoardings; Airtel, Elephant House, SLT you name it they were all there by the road side. The only difference is now the messages were in Tamil as opposed to Sinhala or English that you see in other parts of the country.  As we entered new towns we were greeted by name boards in customary green and white that contained Sinhala, Tamil and English writings.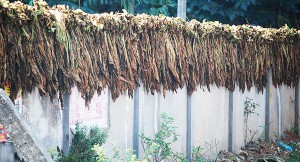 Another unmistakable sight was the mountains of metal, concrete sleepers and steel tracks that had been piled up alongside the A9 for the construction of the northern railway line. There is not a trace left of the old track, except for the dilapidated and war damaged railway stations that are left standing as a testament to the destruction  brought about by three decades of war.
We came across the only check point that still exists along the A9 at Omanthai, approximately 17kms north of Vavuniya. Our able and knowledgeable driver had to go and register his details with the authorities.  From there on we headed north passing Mankulam and the Iranamadu tank towards Killinochchi (approximately 80 kms north of Vavuniya), the bastion of LTTE rule during its heyday. Once again single carriageways of the A9 expanded into a dual carriageway with the central reservation beautified by plants grown on cement pots. It was just another busy high street with businesses on either side and people getting on with their daily activities with minimum fuss.
Along the way we drove pass several war relics and army camps. The well manicured gardens and relaxed looking soldiers were a trademark of these camps.
We kept on driving passing Paranthan towards Elephant pass. The Jaffna lagoon either side of the A9 looked pristine as the afternoon sun beat down on the water. From the northern side of the causeway looking southwards, Elephant Pass looked a picture post card: a couple of Tal trees standing tall next to a little shed housing a restaurant, followed by the A9 extending southwards across the lagoon. One cannot escape the prominent war memorial built in remembrance of thousands of troops that had perished at Elephant Pass.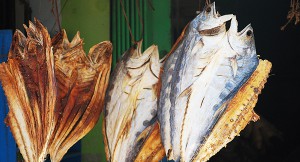 As we made our way to Jaffna town, located at the western tip of the peninsula, the pleasant evening was turning into dusk. When the Alfred Duraiappa stadium greets you it is an indication that you have now entered city limits of Jaffna. Proceeding through the city centre we took the KKS road towards Palali to reach the lodge for our first night in Jaffna. We could not drive past the town without resisting to stop by a mouth watering "isso wadai" stall.
The following day was a 9 a.m. start (after a few drinks, dinner and a good night's rest) and on the itinerary was the landmarks of Jaffna. The bottom less well, Nallur Kandasamy Kovil, the irresistible Rio Ice Cream parlour, the Jaffna library, Dutch Fort and Keerimalai spring to name a few.
As everyone had a fetish for Jaffna "dosai" we went shopping downtown and ended up at a clean eatery, alas minus dosai. After filling our bellies with "kottu" and rice we wandered around the city centre. Despite the lack of sprawling buildings Jaffna town is a commercial beehive. The hard work ethic Jaffna citizens were abundantly evident as this town was getting about its daily life, unperturbed.
Our day in Jaffna was concluded travelling along the northern most part of the peninsula on Jaffna-Ponnalai route with visits to couple of Buddhist sites of significance (Chunnakam temple and Dabakola Patuna). The clear blue water of the Indian Ocean was a reminder what this beautiful island has to offer travelers even in its most northern corners. From there we crossed Ponnalai causeway to enter Karainagar and what is perceived to be the best place for a sea bath in the Jaffna peninsula:  Casuarina beach (popularly known as casino beach).  The waist high water with near perfect temperatures extending few hundred meters was the perfect way to cool off for these avid travelers.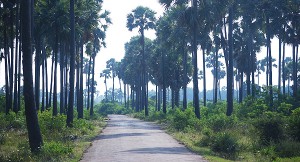 A write up on a visit to even the most remote corner of Sri Lanka wouldn't be complete without a mention of Cricket. The sight of children enjoying a game of cricket on make-shift cricket grounds was another reminder of how life is returning back to normal for a generation that had only witnessed war before. The deafening noise from the Jaffna Central College vs. St. John's College big match and two kids who had climbed on top of a bike, and were doing a delicate balancing act to get a view of the action are etched into my memory. I am sure it is just a matter of time before we have the next wave of cricket superstars emerging from this part of the country, proudly representing Sri Lanka.
The following morning was a 6 a.m. departure heading back to Colombo via Mullaitivu. We left a Jaffna waking up to another tranquil morning and proceeded southwards along the A9 to Paranthan, our turn off to Mullaitivu. On route we were greeted by a herd of cows (a few hundred, no kidding) in transit from one farm to another. We also passed the Indian Housing project where resettled families are starting a new chapter after many war ravaged years.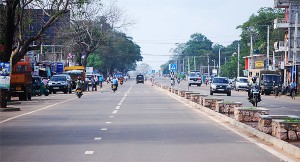 On route there were two striking sights that caught my attention: the painstakingly meticulous de-mining process and the monumental effort that has gone into land that has already been cleared. The areas cordoned off by warning signs and red flags were a reminder of the dangers that lay beneath these fertile grounds and many thousands that perished or were maimed by these inhumane devices.
The other striking sight was the Mullaitivu road that is still under construction. The first few kms of carpeted road leads to a dirt track and temporary bridges, reminding the neglect of three decades of war. This also gave me a perspective of the effort and resources that have gone into the reconstruction of the A9.  As Mullaitivu was the theatre for final battles of the war there is a considerable amount of destruction and many locations of military significance were to be seen. Life is returning to normal albeit slowly and much development work awaits this north-west frontier.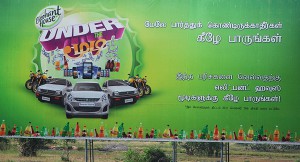 So all in all, my dream conquering first trip to Jaffna was a memorable one. It was evident to me at first hand the significant developments that have been carried out to date and much more that still needs to happen. I invite all my fellow Sri Lankans, especially the ones living overseas, to come and experience Jaffna. I can vouch that it will be worth every second and every cent that you expend.