Protective jackets a must to visit Sigiriya summit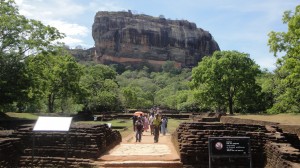 When you think of safety jackets, the first thing that comes to mind usually is an activity that has something to do with the sea. In this case however, safety jackets have been deemed a must in one of the driest regions in the country!
The Sigiriya Central Cultural Fund has made it essential for tourists to wear safety jackets if they wish to scale to the top of Sigiriya, one of Sri Lanka's key landmarks and tourist attractions.
According to the manager of the fund, the decision was taken after two children and a tourist had been injured in a wasp attack recently. Following the attack, only foreign tourists were allowed to proceed beyond the Lion's Paw.
Despite the sudden decision, there was a shortage of jackets to cater to all those planning to proceed beyond the halfway point due to many of the jackets having been sent to the cleaners. It is expected that the fund will bring in more such jackets to cater to all those wishing to climb the rock.
The likelihood is that this will be only a temporary measure until the issue is dealt with. Wasp attacks have been an occasional menace in the past couple of years between April and September. This year has seen five severe incidents of wasp attacks – a much greater occurrence.
According to Mr. Ranaweera, working director of the Central Cultural Fund, among common factors such as human activity and strong winds, the intense heat during existing drought conditions could have aggravated the situation.
So don't worry if you end up looking like a character from a sci-fi movie when you don the protective jackets, be glad you won't look like an alien underneath!
Check out what the safety jackets look like on this video off the Daily Mirror Website.
Visit http://www.dailymirror.lk/news/20009-safety-jackets-essential-to-climb-sigiriya.html