MCC Surrey Village ground opens in Maggona
The new Surrey Cricket ground at Maggona on Sri Lanka's west coast was declared open at a ceremony held at the ground on 15th May. Paul Sheldon, the CEO of Surrey County Cricket Club and Chairman of the Oval Relief Trust, has initiated the concept and was in attendance alongside the Chairman of Sri Lanka Cricket, Mr. D. S. De Silva and SLC Secretary, Mr. Nishantha Ranatunga. The trio planted a tree each to commemorate the day followed by the traditional Buddhist practice of lighting the oil lamp. The procession continued with De Silva bowling the venue's first ball to Sheldon.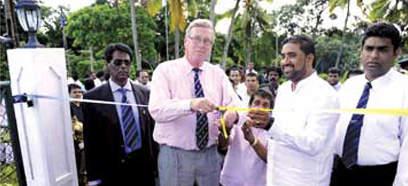 Surrey Village has been one of the pet projects in providing assistance to tsunami affected areas and out of the £2.5 million that the Oval Relief Trust has given away for charities for victims of natural disasters, around £800,000 has been given to Sri Lanka. Funds have also built 50 houses in the area for tsunami victims. The fund raising effort for Maggona ground began back in 2005 with an international cricket match between an Asian XI including India's Sachin Tendulkar, Sri Lanka's own Muttiah Muralitharan and an International XI led by Australia's Shane Warne at Lords.
The venue now represents a premier venue for the Kalutara District. Mr. Sheldon was optimistic that the ground will be well maintained so that school, club and first class games could be played at this venue on a regular basis. Hidden away in a cute setting off the Galle road between Bentota and Colombo, the ground has been cut into a slope giving the elevated pavilion views of the surrounding village and jungle. The venue will now be available for hire on Red Dot's cricket tours packages.