The foodie side of Sri Lanka's commercial hub
Food. No matter which part of the world you travel to, food is without a doubt one of the core ingredients of a memorable holiday. So when Pepper recently invited me to join them for a street food walk, I happily agreed!
Our group was met at sundown outside a bar in the bustling heart of Colombo, by Arshad – Pepper's peppy Colombo expert and host. Taking a seat inside, we were treated to a shot of local alcoholic firepower mixed into an authentic concoction; coupled with the ambience and the yummy local bites, this certainly
set the feel for the walk. A good half an hour in the almost-dodgy bar and we headed out onto the streets, ready to explore some real street food.
We crossed over onto New Bazaar Street, lined with brightly lit shops. On some parts of this busy street our host pointed out inner roads lined with compact houses; a single house used to hold roughly three families resulting in tiny kitchens which meant people opted to buy their meals instead of cook – a key reason for the birth of street food in the island.
Our stop was a small cart conveniently parked by the side of the road, showcasing an array of short eats. Dubbed by Arshad as "Sri Lankan cookies", the classic local tea time accompaniment, we sampled a variety of scrumptious sweet and savoury goodies.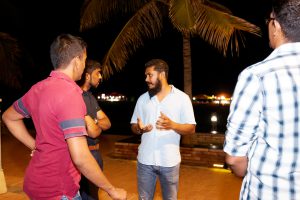 With tickled taste buds and stirred appetites, we were glad to hear that our next stopover was only a minute away. Walking into a feast, first for our eyes, the food on offer here was more main course- a selection of flat breads and other carbs accompanied by mouth-watering and somewhat intriguing curries that ranged from cuttlefish, mutton and beef to delicacies such as tongue or brain- bubbling away in pots. I then realized why our host had very courteously advised us to put on our Adventurous hat!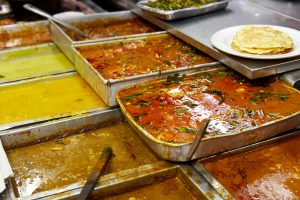 Pans of inviting, hot curry
Having eaten as little as possible (since Arshad kept reminding us the mains were yet to come!), we moved across the street, where a man stood behind a tiny cart lined with small bottles. Here I got my first taste of Bombay sweet beeda, a mix of ingredients (that remains a secret), all wrapped up in a single betel leaf. Said to aid in digestion and freshen your mouth, it sure makes for quite a mouthful of flavour without a doubt.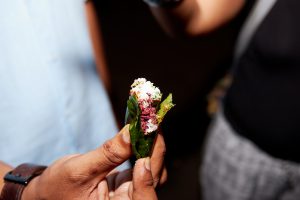 We then hopped into waiting trishaws and headed to our final stop. En route, we were treated to the fuel that the workers in this busy area run on – steaming cups of delicious porridge that I glugged down with surprising ease.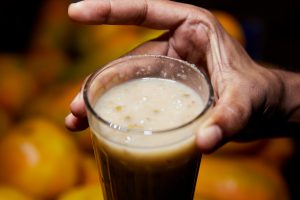 We finally arrived at the Galle face green, a 5-hectare open space where both locals and foreigners come to spend a leisurely evening. Several food carts dotted the far edge, overlooking the ocean, and Nana's, our dinner stop is one of the oldest, having been established over 120 years ago. I opted for kottu – a mix of flatbread, veggies and meat, undoubtedly one of the most popular dishes in the island.
Looking out to the dark ocean, we ate and chatted away, before bidding our host a gracious farewell after a truly adventurous evening.