Why House clinches award for Asia's Best Family Hotel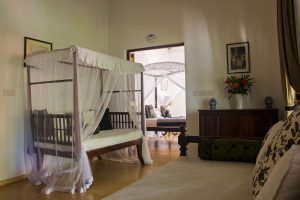 Why House recently grabbed the top spot for Asia's Best Family Hotel in the Boutique Hotel Awards held in London last month. We can't really say we're surprised because Why House has indeed been a firm favourite of families travelling with us. Hidden away from the popular beaches of Thalpe, in a gorgeously landscaped three-acre garden.
Why House is quite simply the epitome of a family-friendly boutique hotel. With an irresistibly inviting swimming pool and delicious food that is enough to keep you coming back for more, Why House is well-deserving of this accolade.
Overseen by the cheerful and ever-obliging Henrietta who welcomes guests, towed by Nigella and Tigga the hotel pets, Why House ensures guests are looked after exceedingly well, be it families, couples or single travellers. Why House can sleep up to 24 guests and each room is unique in design.  The beach is a short tuk tuk ride away and the extraordinary UNESCO world heritage site of Galle Fort is just 15 minutes away.