With the Kids, in Sri Lanka
The other day, Red Dot CEO Miguel Cunat was approached by a client with a simple but rather specific question:
"We are a family of five. Two parents in their 40s with three young boys aged 5 – 11. We consider ourselves active travellers who are really into local experiences. When all the tourists go left, we want to go right. What do you recommend we try out in Sri Lanka, experience wise, that we can do together with our kids? Things that are really out of the box and original."

Being a family man with three young boys of his own (and a decade of experience in the travel trade behind him), Miguel was, needless to say, the perfect person to answer this particular question. Based on his eloquent and detailed response to the above query, here's a quick walk through Miguel's 'perfect trip' designed for those of you who wish to travel in Sri Lanka with your kids.
First stop, Ulagalla and the Cultural Triangle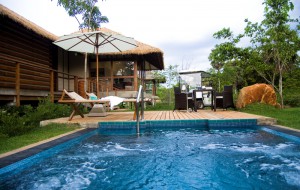 "Your first stop," says Miguel, "should ideally be Ulagalla, located in what is essentially the heart of ancient Sri Lanka, home to numerous archeaological sites dating back over two thousand years, collectively referred to as the Cultural Triangle. Here, your kids get a chance to learn about the ancient history of Sri Lanka in a fun and interactive way. A great ancient civilization emerged in this part of the world – mighty kings rose to power, great battles were fought; it is a land of legend and pageant. That's the sort of mood your kids need to get into during their stay here. Ulagalla should work well with the boys – there's archery, kayaking and horse-riding. Climbing Sigiriya is, of course, a must, but something that's completely off the wall and hardly anyone does is to climb Pinduragala which is the rock situated right in front of Sigiriya. It's a little challenging because it has three big boulders you need to navigate around, but ought to be easy for kids and fit parents. The sunset from here is something else. I would definitely include a jeep safari as well, and I would also take them to visit a local village, in addition to the boat rides that we provide."
Next stop: Kandy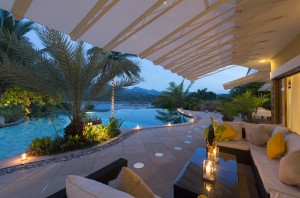 "In the central hills of Kandy, I would most definitely stay at The Bougainvillea Retreat, located near a picturesque golf course. The area offers horse-riding, kayaking (again) on the lake and tennis, that you may cap off with a round of mini-golf and/or golf proper. Another interesting thing about this area is that Indiana Jones and the Temple of Doom was filmed here. (The older ones could perhaps watch the movie before coming to Sri Lanka). They will, no doubt, be fascinated by the vegetation and intrigued with the snakes, bats and the plethora other wildlife present here. Speaking of which, in Kandy they definitely need to visit the Botanical Gardens for a walk/run-around. Another epic – the Jungle Book – was filmed here. They can walk around the park with Professor Bandara Palipana who is loads of fun and might even entertain them with a few magic tricks as well. While in Kandy, I would also take them for tea + biscuits at Helga's Folly. Her home is, interestingly, a cross between Harry Potter's house and the Monster Family, which I'm sure your kids would love."
Afterward, explore the Tea Country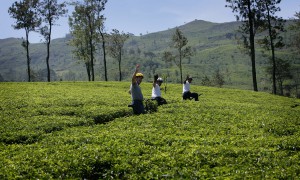 "From Kandy, a train ride to the Tea Country is in order. In the Tea Country, I recommend you stay at Tea Trails or Mas Villa. Boys love machines, and a tea factory is full of machines squashing and chopping tea. It can be made into an interesting visit for the kids. I would also take them on a tour of the bungalow, where they can swim and play in the garden. There are plenty of games to be played here, like croquet, badminton, tennis as well as indoor games at night around the fire. I might also organize a picnic somewhere, and tell them the story of Adam's Peak, the sacred mountain."
If you're feeling a bit adventurous…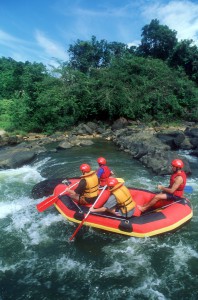 "If you can afford a helicopter ride to the south, then well – wow – another great adventure. If not, drive via Kitulgala where yet another great film The Bridge Over the River Kwai was shot. Give the kids time for a swim in the river here – don't let this opportunity pass you by. They are guaranteed to love it. If you have the time and the kids are up for it, white water rafting here is an absolute must. The rapids are great, but not so rough that it's too dangerous for kids. The place to stop is Borderlands. Note that they could also 'camp' here for a night."
Next stop: Yala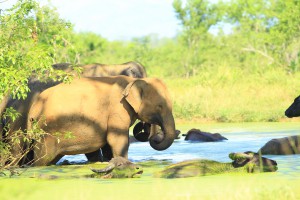 "In the south, Yala National Park offers the opportunity for the kids to track leopards, and again camp – this time In Style. Boys love camp fires and stories of great game drives, mad elephants, crocks, crazy monkeys, etc. For the best camping options, try Leopard Safaris."
Then we chill by the Mahawella Beach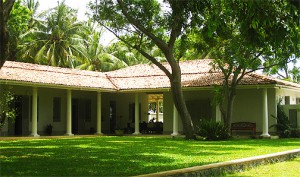 "The best beach for children in Sri Lanka is by far Mahawella Beach. There is one particular place that I would recommend called The Last House which is just fabulous and perfect for a family of three boys. The Cinnamon Suite is exactly what they need, 1 double + 1 twin and a small adjacent single and one huge bathroom. The house is pure family bliss. What's important to note is that the beach is long and safe – considering the fact that many of the beaches in the area have strong currents, Mahawella is the least exposed to currents. That said, one should of course always be mindful."
Galle Fort, because no trip to Sri Lanka is complete without it 
"In Galle the place to stay without a doubt is WHY HOUSE. Henrietta, the manager, is adorable and is like a mother to all her guests. Her dog is fun to play with; the pool is perfect for kids; and she has a garden house ideal for a family, where your kids can play cricket, rugby or football without bothering anyone. While in Galle, I would definitely organize a surf day/lessons, and throw in a bike ride for good measure. I would also make it a point to move around the area in tuktuks/threewheelers (all very easy to organise). A visit to Galle Fort is also a must. The story of Galle Fort is a fascinating one and author Juliet Coombe, who is something of an expert on the subject, will take them on a kids' tour/treasure hunt around the area regaling them with tales of the old days. Kite flying from the ramparts overlooking the Indian Ocean is also a great idea."
On your way back to the capital, stop briefly for a good cause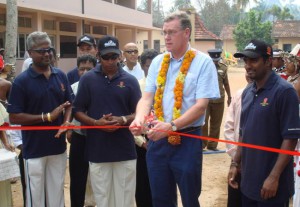 "En route to Colombo, a stop at the Foundation of Goodness is recommended. It's located in a village north of Galle that was rebuilt entirely from the ground up, after the December 2004 tsunami that ravaged the area. Here, your boys will interact with local kids, and have the opportunity to give back a little."
Finish it off, in style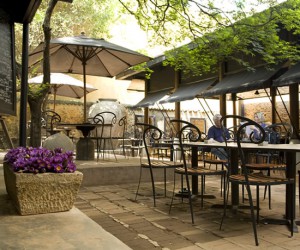 "In Colombo the easiest/simplest option for lunch or dinner will be the Gallery Café. Personally, I would choose to stay at the Residence – on Park Street. Homely, central – it just works."