Camping in style with Leopard Trails in Yala
It's that time of year again when after five months of really late nights and stressful phone calls that some of us in travel get to take the peddle off the metal. Come mid-April we get a few weeks where it is time to catch up with all the new hotels and old ones by visiting them and refreshing our minds.It is one of those perks in the job that we get to see and stay at some of the most amazing places in Sri Lanka, some very luxury hotels and some great eco lodges which just take our breath away.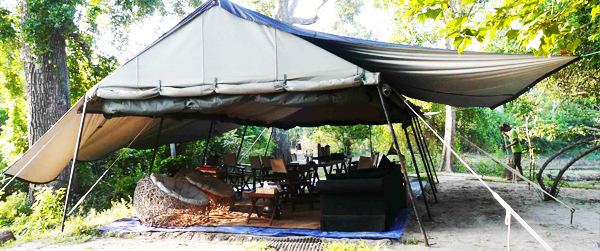 We planned a visit end of April so that we can see some of the newer places in these areas which included camping at both National Parks – Uda Walawe & Yala. It didn't take long to convince me to come on this trip knowing my love for the wilds. I even got up early enough to make sandwiches for everyone for a snack on the way. We headed to Yala to camp with Leopard Trails – a relatively new but quite different camping operator in Yala. I had not been to Yala National Park for a few months and was really looking forward to going on safari.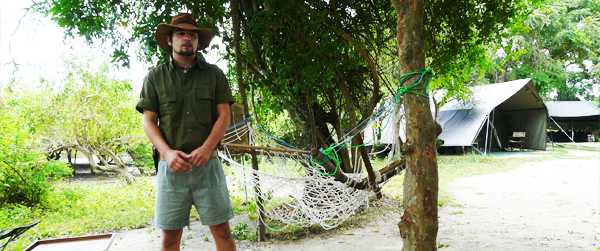 We were met by Radheesh & Amrith who are directors of Leopard Trails and also their Naturalist Aaron who was going to be our guide for the next two days. We were off on the dirt track to the camp site. The road was a bumpy ride due to the recent rains, but it all added to the experience. As we got off the jeep we got cold towels and an ice cool drink – exactly what we needed on a super-hot April afternoon. As we sipped our drinks Aaron briefed us about the do and don'ts of the camp site and what we should do in case there was an emergency. I think this was very important not only for the people who were camping for the first time but even as a reminder for seasoned pros. We were shown to our amazing tent which had queen-sized beds, lots of space to walk about, lots of luggage space, an attached w/c was an added bonus. The shower was just outside which added to the experience.
We sat down to a really nice rice and curry as we were famished by then, however some of us did manage to drown a few beers before lunch! We were ready for a safari by 3pm and set off in two jeeps to the Katagamuwa entrance of Yala National Park to enter the park. We didn't get a park guide as the Red Dot jeep drivers knew the park like the back of their hands. Superior service not available to all.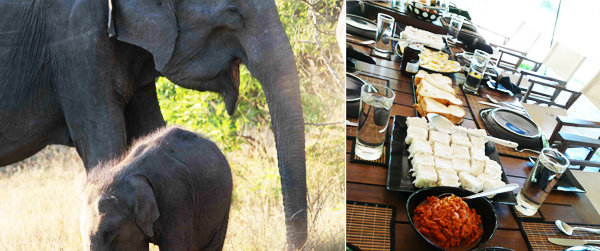 As we went along on safari it was refreshing that we didn't meet a hundred other jeeps racing to get to a well-known haunt of a leopard either seen that morning or the afternoon before. We went past the water holes and 'wawes' which are man-made lakes inside the park. Lots of good birds were seen and photographed. A Grey-headed Fish-eagle was on a dead tree waiting to pounce on a prey. We also got a great shot of a Mugger Crocodile basking in the sun on the middle of the road.
There is so much to see in this wonderful park that you don't really need to run around looking for leopard and end up miss seeing so many other interesting things. We met a herd of elephants feeding on the side of the road and it had two very small babies in the herd and they offered good views. Some of the trees were in flower as well after the rains and added to the beauty of the park. Our two jeeps went in two separate ways so that we can try to see as much as possible. As luck would have it, the other jeep with all of the others in it had a superb leopard sighting with a female leopard just sitting by the side of the road as they watched.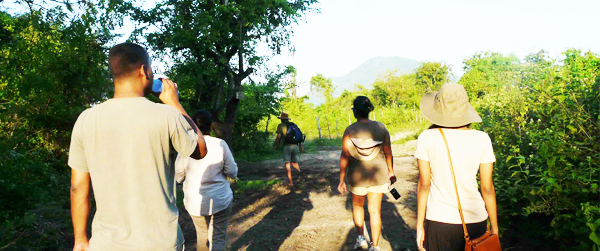 We drove back to the camp site, all lit up for the evening, and we settled down after a nice shower to have a few drinks, watch the stars and have a great BBQ dinner by a camp fire. We ended up having a very late dinner which was really great and some of us just could not stop eating! We dragged ourselves to bed though we wanted to stay up and enjoy the company and keep hydrating our selves, not necessarily with water…
After a sound night of sleep we work up early morning to the sounds of the birds. After a quick coffee we opted to go for a nature walk with our naturalist along the shrub jungle around the campsite. This was a very interesting walk where we saw many birds, butterflies and some wild buffalo as well. The crisp morning air was just what we town folk needed.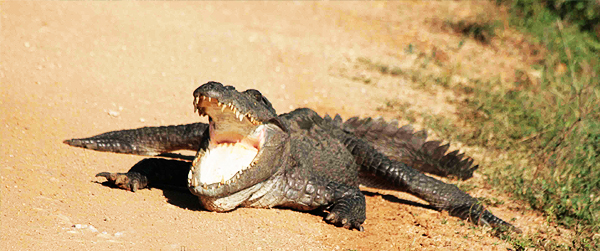 All in all it was a wonderful stay thought a short one with Leopard Trails and I wished we had longer to stay. This is truly a great way to experience wildlife without the crowds in Yala National park.