Inside Sri Lanka
Lipton's Seat
For hikers and those who appreciate extravagant (360 degree) panoramic views of forest and tea clad valleys, Lipton's Seat, at over 6,000 feet above sea level, is a rewarding excursion. You get there via Haputale (an eight hour journey by train from Colombo through magnificent scenery) and then by tuktuk (unless you're ready for a 10km up hill hike).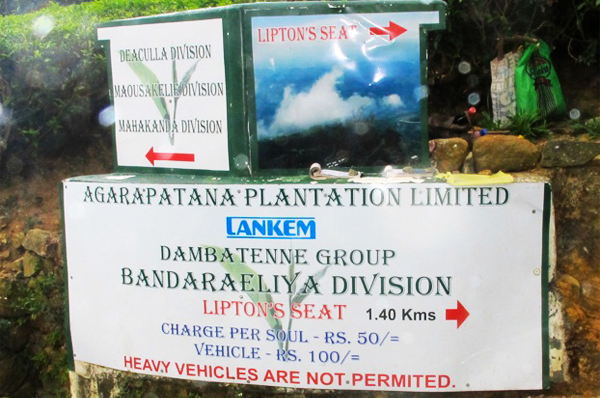 Actually, you can drive right up to the plateau where Sir Thomas Lipton used to sit and survey his tea plantations, but it's such a small area, more than four vehicles create a traffic jam – not what you want in such a beauty spot. The best way is to leave your vehicle at the entrance and hike the 1.3km up to the look out. The sign requests an admission fee of "Rs50 per soul; Rs100 per vehicle."
At the top, on a rare clear day, you can see across the hills and plains of five provinces of Sri Lanka. There is a thatched pavilion to sit and picnic, as well as a shop selling snacks and a newly built gazebo on the summit of a hill behind the viewpoint. Lipton's Seat is a favourite of local tourists as well as foreigners, and is literally a "cool" place to meet and talk to fellow travellers.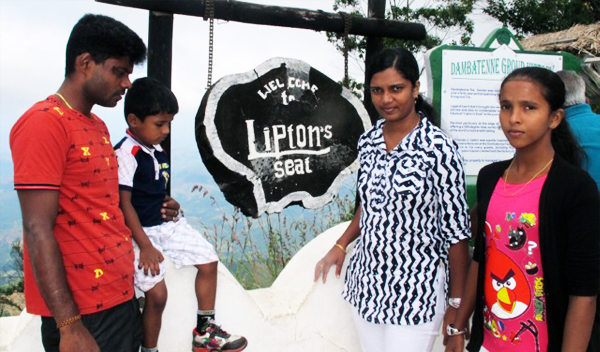 Mementoes of the Past
Along the west coast of Sri Lanka, from Beruwela to Hikkaduwa, there are some fascinating antique shops. Although the exportation from Sri Lanka of antiques — decorative objects that are valuable because of their age — is not permitted without a permit, the small houses with gardens filled with old window frames and piles of discarded timber, and mansions stacked with collectibles of the colonial era are super places to visit.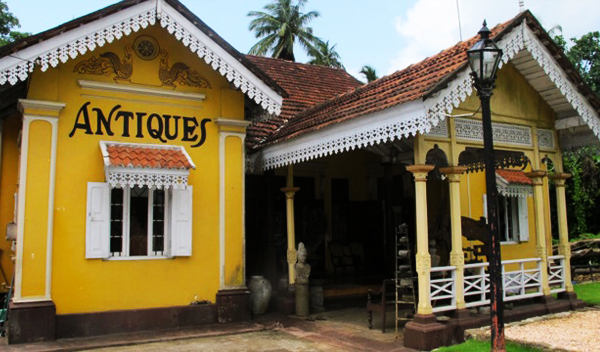 In the resort town of Bentota a former village headman's house painted an eye-catching mustard yellow, has been turned into a showroom of the weird and wonderful. The amazing items, ranging the full gamut of Sri Lanka's past from ancient figurines to the British coat of arms, are set out as in a museum. Instead of labels detailing their provenance, they have price stickers, in US dollars since everything is for sale.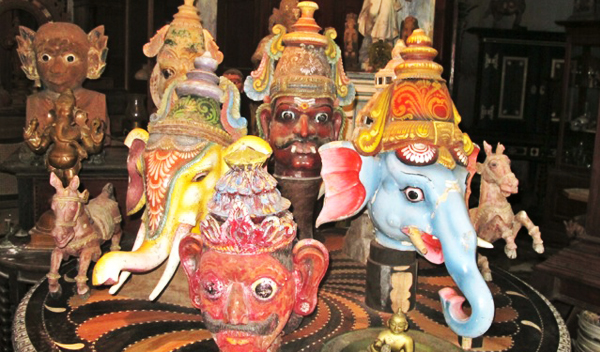 Although it is close to the main hotels lining the beach at Bentota, the assistant on duty said that few tourists visit the shop. That seems a shame when there are so many fascinating things on display, and visitors are under no pressure to buy anything. Many of the gaudily painted carvings of animals and  heads come from Jaffna and there are lots of smaller items as well as furniture, such as teapots, clocks and lamps on display.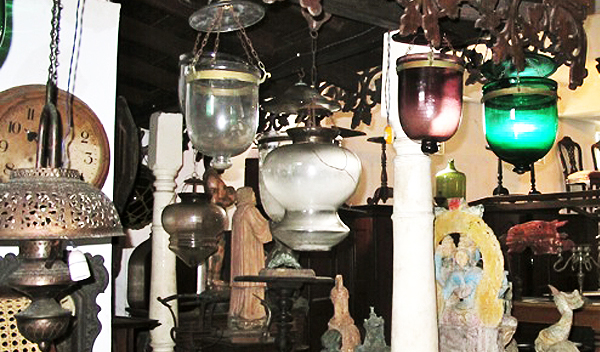 When I asked the price of one intriguing wooden box, the assistant rolled her eyes and considered me for moment. Then she said with a sad smile, "It's not for sale to foreigners.
But at least tourists are welcome in the antique shops along the west coast to gaze at the priceless collections, even if pieces genuinely over 100 years can't be taken home as souvenirs.
Unawatuna Fluctuates
The beach at Unawatuna, once described as one of the ten best in the world, is fluctuating. A breakwater has been built at the western end of the bay ostensibly to protect it. However, the unexpected consequence has been the catastrophic erosion of the eastern end of the beach.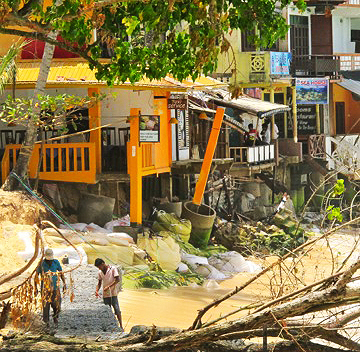 Now the beach bars and cafés and even the venerable Unawatuna Beach Hotel [UBR] (at present under going renovation) are bereft of the splendid beach that made the bay world famous. Emergency measures are underway to counteract the damage caused by interfering with nature, and sandbags and rocks are being used to help in retaining the beach.
The popular Lucky Tuna Restaurant has managed to create a small balcony of beach overlooking the sea, while UBR is turning its volleyball court into an inland beach, with an air-conditioned beachside bar specialising in Sri Lanka's best arracks.
Rajadhani Carriage
A recent innovation has been the addition of privately-managed air-conditioned railway carriages attached to popular trains. Thus it is now possible to book a seat on-line on either the Rajadhani or Expo Rail carriages attached to trains to Galle & Matara; Nanu Oya, Haputale & Badulla; and to Kandy.
For my trip to Unawatuna, I took the Rajadhani carriage attached daily (except Thursdays) to the express train that leaves Colombo at 06.55 and reaches Galle, with stops on the way at Bentota & Hikkaduwa, at 09.41. It returns from Galle (but not on Thursdays) at 15.20, arriving at Colombo at 18.10. There are 48 comfortable reclining seats with numbers 1 & 24 best for window views, while seats 9 & 10 and 11 & 12, and 15 & 16 and 13 & 14 face each other.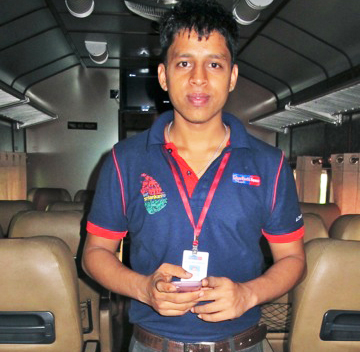 Dinesh who comes from Anuradhapura is usually the steward on board, ready to help with luggage and to serve tea and snacks from a menu. The one-way fare is currently Rs990 from and to any station between Colombo and Matara. It's a smooth way to travel on that train as the 2nd & 3rd class carriages are always full with standing room only.
ATM Tip
Richard, an independent traveller retired from his job in Australia, whom I met by the pool at the colonial style Tamarind Hill Hotel in Galle last month, gave me a tip for travellers about using the hole-in-the-wall cash machines (ATMs) here. In Sri Lanka the machines don't return your cash card until you have received the money and then push a button to activate the card's return.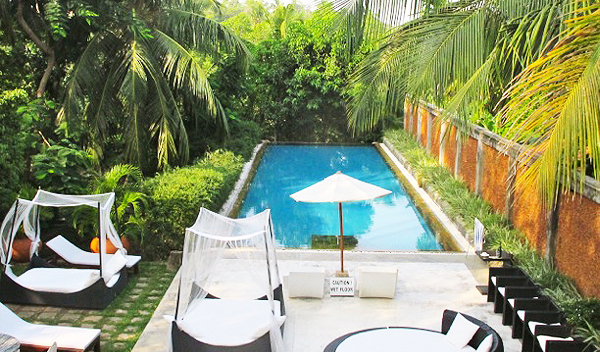 Richard thought the machine was like those in Australia and elsewhere that return the card automatically before spilling out the cash. So, without thinking, he took his rupees and walked away. He had to spend four days hanging around Colombo while he waited for a replacement card to be organised. So the tip is: when using an ATM, remember to push the right button to retrieve your card before leaving.
British resident of Sri Lanka, Royston Ellis, is an erstwhile beat poet (his book Gone Man Squared has just been published by Kicks Books of the USA) and the author of The Bradt Guide To Sri Lanka. His weekly blog about Sri Lanka is available by free subscription from www.roystonellis.com/blog