INSIDE SRI LANKA – A monthly insider's report by Royston Ellis
Escape CHOGM
The CHOGM roadshow rolls into town from 10 to 17 November 2013. CHOGM is the acronym for Commonwealth Heads of Government Meeting and 54 HOGs representing Commonwealth nations around the world, plus  10,000 delegates, spouses and entourage members, as well as participants in Commonwealth youth and business forums, will be taking over Colombo. The major hotels will be closed to outsiders so if you will be in Colombo then you could be forgiven for thinking CHOGM means Colombo Hotels Off Guest Menu.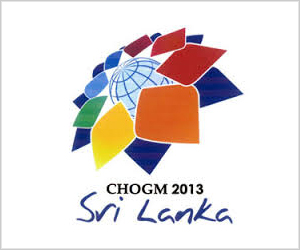 Since there will also be conferences in Hikkaduwa and Hambantota, Sri Lanka might seem to be crowded. Even the British Foreign & Commonwealth Office has issued this warning: "The Commonwealth Heads of Government Meeting is scheduled to take place in Colombo during the week of 11-17 November 2013. There may be high levels of travel disruption around that time, like frequent road closures, high security at airports and difficulties in booking hotel rooms."

Fear not, however! Sri Lanka is big enough to explore without running into a HOG or a roadblock. My suggestion would be to head for the hills: Nuwara Eliya has plenty of accommodation and places serving reasonably priced meals, although no nightlife. For that, hit the south coast and hole up in Unawatuna until the HOGs fly away and Colombo returns to normal.
Or use the period to discover Sri Lanka by train. There are now AC carriages with seats that can be reserved in advance on line from Colombo to Matara (via Bentota & Galle); to Kandy; to Badulla (via Nanu Oya for Nuwara Eliya; Haputale and Ella); to Trincomalee; and to Anuradhapura and onto Vavuniya (for Jaffna).
Sri Lanka By Rail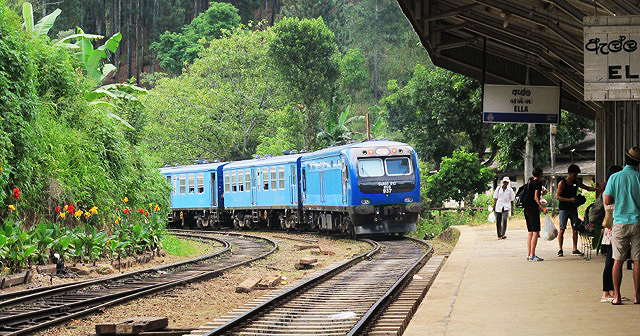 This is actually the title of a book I wrote for Bradt Travel Guides 20 years ago and it's long been out of print. Just as well as the train service has changed with the clapped out sleeper compartments having been replaced with sleek DMUs (Diesel Multiple Units) from China, which have utilitarian seating even in 1st Class, and air-conditioning too.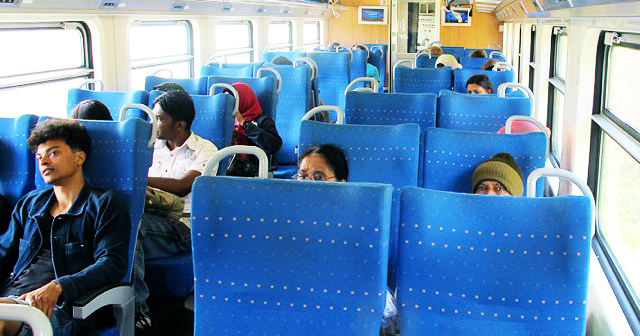 They have replaced carriages (and locomotives) on the scenically impressive line from Colombo to Badulla in the hills, which takes passengers via Pattipola at 1,891m above sea level, the highest railway station in Sri Lanka. The 0815 daily departure from Colombo retains the characteristic old rolling stock but also has luxury compartments (book in advance on line) run by both Rajadhani Express www.rajadhani.lk and Expo Rail www.exporail.lk.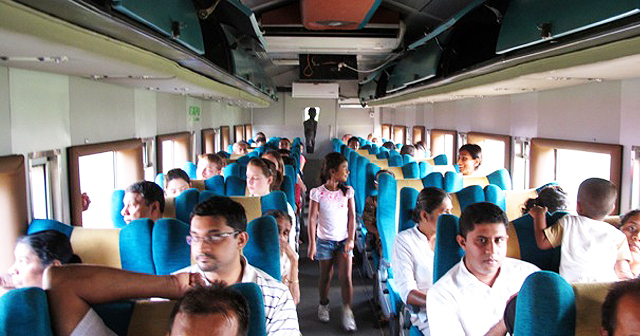 Full timetables of all Sri Lanka Railways services, with fares, can be found on www.glc.gov.lk . Be prepared to take your own food and drink on trains as (except for the privately run carriages) food (of doubtful provenance) and drink can only be obtained from itinerant vendors who board at different stations.
Jaffna
It is hoped that the rail link to Jaffna will be open next year; trains are already serving Vavuniya and north as far as Kilinochchi. There are nighttime buses running between Colombo and Jaffna for the hardened backpacker while the more affluent can fly by the Air Force Helitours outfit or Fits Aviation, formerly Expo Air www.fitsair.com.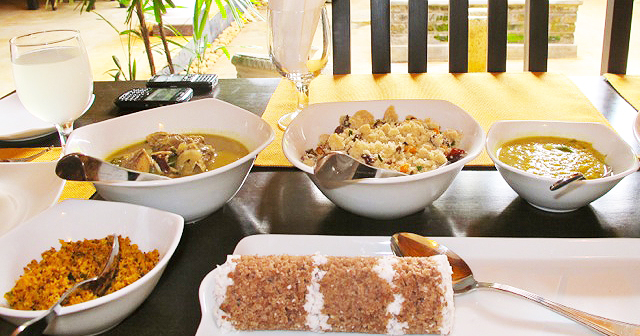 Is Jaffna worth the visit? Definitely, but not if you just want beaches or scenic delights. The city is fascinating and friendly with some fine Muslim eateries as well as places specialising in Jaffna cuisine (dry, robust curries; Jaffna-cooked and crab are sensational) and hearty breakfasts.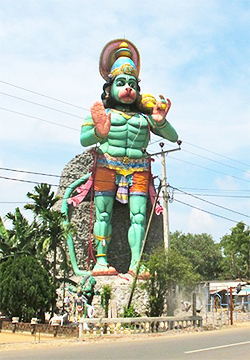 I like Jaffna for the unexpected discoveries of old and new monuments; for the boutique-style hotels in the wilderness, for drinking palmyrah toddy, and for sampling the sweet grapes and plump mangoes in the market, and for the ferry visits to other islands. While Sri Lankans make a pilgrimage to Nagadeepa shrine on Nainativu Island, tourists can pop over to the islet of Hammenhiel entirely occupied by an old fort. This used to be a quarantine station and then a gaol before opening to visitors earlier this year.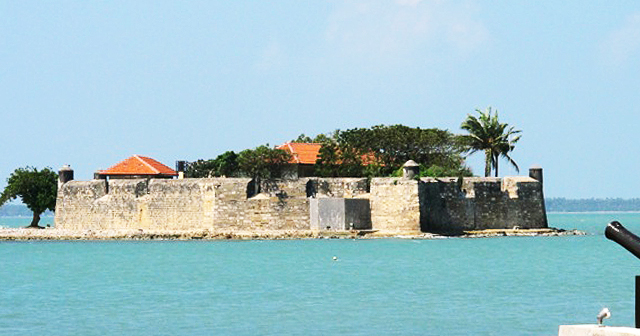 Hamilton Canal Opens
The Hamilton Canal linking Negombo with the Kelani River in the south, has been renovated at huge expense (thanks to aid from Japan)  and is now open for trips along its length by motorboat. This surprising development when urban waterways in other countries are being covered over for vehicular traffic, is designed to increase facilities for tourism as well as for the residents of the canal bank.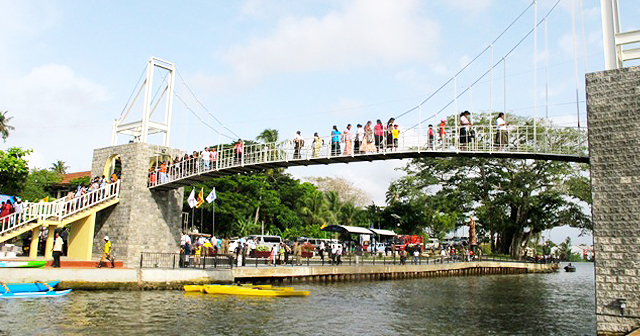 As well as the cleaning and desalting of the canal, a new bridge has been constructed at Palliyawatte near the Kelani River mouth. This has had the unexpected benefit of becoming a tourist attraction in itself, with people (including wedding couples) lining up to be photographed on it.
The canal, originally opened in 1802 at the instigation of a government agent, Briton Garvin Hamilton, was built to link with a parallel canal constructed by the Dutch. Hence it is also frequently – and mistakenly – called the Dutch Canal. It covers of stretch of 22km from Maha Oya via Negombo to just north of Colombo and enables travel by boat to the Muthurajawela Wetlands Sanctuary.
Beruwala Fish Bite
A bite in Sri Lanka refers to the nibbles, shorts eats (snacks), the equivalent of the Spanish tapas taken with a drink. One of the island's best fish bites is to be found behind Beruwala on the west coast, at the Beruwala Beach Resthouse, close to the gates of the fishing harbour. Although it has a room for private drinking and eating, I prefer the drinking den at the back of the resthouse, where the other customers seemed to be retired fishermen and relaxing tearaways. The bar counter is like a fortress and the place no better than it should be. You want find HOGs or their followers there.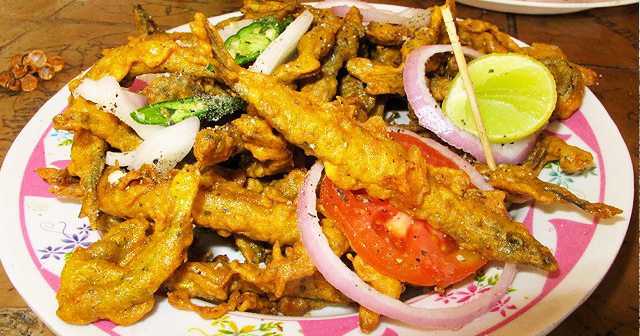 I want recently to see whether the fish snacks were as good as I remembered from my visit three years ago. I ordered Deep Fried Handalla, a fish similar to whitebait, and it was scrumptious, and only Rs300 [£ 1.42; US$ 2.22] an ample portion. It's a pity that the tourist restaurants and hotels don't feature this simple local delicacy on their menus, preferring to offer squid rings or battered prawns instead.
British resident of Sri Lanka, Royston Ellis, is an erstwhile beat poet (his book Gone Man Squared has just been published by Kicks Books of the USA) and the author of The Bradt Guide To Sri Lanka. His weekly blog about Sri Lanka is available by free subscription from www.roystonellis.com/blog.