March madness in the island
Venture out on the streets during most weekends between February and March, and you will be bombarded with noise – of school boys and cricket lovers going on parades in bicycles, cars, vans, trucks and by foot. These are the months of the ultimate cricket battle of schools – better known as Big Match Season.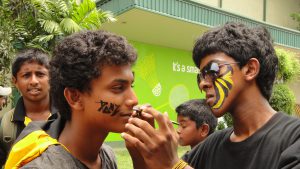 Big Match Season brings together past pupils of some of the most prestigious boys' schools in Sri Lanka. The cricket encounters take place between traditional school rivals, both for fun and for good sporting camaraderie. Some of these matches have been played annually for over 100 years; in fact, the Big Match between Royal College and St. Thomas College, referred to as the Battle of the Blues (as both schools have blue in the flags), is the second oldest match in the world. Having started in 1879, the Battle of the Blues is older than the Ashes Series and even continued unhindered by World War I and II. This is perhaps the match that draws in the biggest crowd; no matter which part of the world they are in, old boys from these schools flock to their motherland to partake in the revelry of this annual event. Birthdays, weddings and illness can wait – this reunion cannot be missed!
More than fifty schools from across the island take part in the Big Match Season. Like the Royal-Thomian encounter which is dubbed the Battle of the Blues, all the other matches too have nicknames. The most interesting ones are perhaps the Battle of the Saints (St. Peter's College Colombo vs. St. Joseph's College, Colombo), the Battle of the Babes (St. Sylvester's College, Kandy vs. Vidyartha College, Kandy), The Lovers' Quarrel (Richmond College, Galle vs. Mahinda College, Galle) and the Battle of the Mangosteens (Kalutara Vidyalaya v Tissa Central College).
So, this year too, the parades with the flags, the loud annoying pocket horns and the jumping continues. Hang on, what is jumping you might ask…well, this is an activity, now quite traditionally associated to the Big Match, where school boys jump into their sister schools, cause a little bit of a stir and head off. This is in no way a threat to anyone, but is merely a fun activity that happens during the Big Match Season. Just don't ask why it happens (because I don't think there's a good reason for it).
What I can say for sure though is that Big Match Season is pretty much a part of the Sri Lankan culture on one hand, a social gala on the other and most importantly perhaps, an opportunity for old boys to renew loyalty to their alma mater every year.