School cricketers from UK and Malaysia to visit Sri Lanka for Murali Cup 2011
By Hilal Suhaib. Hilal is a cricket writer for The Island newspaper in Sri Lanka
Cricketers from schools in the United Kingdom, Malaysia and Sri Lanka will come together for the Murali Cup 2011 taking place from 12 – 18 July, 2011 in Sri Lanka's beautiful south coast. The Murali Cup is a community work-focused international schools cricket tournament endorsed by cricket legend Muttiah Muralitharan and organised by the Foundation of Goodness in partnership with Red Dot Tours.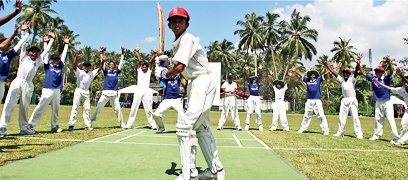 The Murali Cup will take place from 12 – 18 July, 2011.The organisers say Dulwich College, King Edward's School Southampton, Warwick School and Bloxham School will participate from the UK, and the final international spot remains open. Three local schools will also be invited from underprivileged rural areas from different parts of the island.
"This unique tournament brings together kids from different backgrounds to share their joy of cricket while also helping others less fortunate have a brighter future," Muralitharan said of the event, which is designed to promote friendship and compassion between children with different social and ethnic backgrounds as well as help raise funds for a Learning and Empowerment Institute in Sri Lanka's north and east; a project that will be managed by the Foundation of Goodness.
A crucial part of the 10-day tournament will be special community work days when all the players and school teachers will join together to participate in special community programs and activity schemes in Seenigama, a small village near to Galle and the headquarters of the Foundation of Goodness.
In addition to community work, former MCC Secretary Roger Knight will use the tournament to promote the MCC's Spirit of Cricket ethos while international stars, including Mahela Jayawardena and Kumar Sangakkara, will run specialist coaching sessions.
"We are delighted to be working together with Red Dot Tours to create a really innovative schools tournament that will be run annually every July," Kushil Gunasekera, the founder of the Foundation of Goodness,told the media.
The Foundation of Goodness is a charity which aims to narrow the gap between urban and rural life in Sri Lanka by tackling poverty through productive activities. Recently recognised as the best example of post-Tsunami disaster-relief work, the Foundation of Goodness' project in Seenigama provides a holistic model that can be replicated to tackle the problems that face rural villagers throughout Sri Lanka. The Foundation of Goodness provides essential facilities and programmes that benefit 20,000 people from 25+ villages free of cost.
The other organiser of the event, Red Dot Tours, specialises in tailor-made travel to Sri Lanka, South India and the Maldives. The company, which has offices in the UK and Colombo, has cricketing roots having first been conceived as a cricket tour company back in 1999. Since then, though, Red Dot has grown from its humble cricket beginnings into one of the most respected travel companies in Sri Lanka offering a broad range of holidays. The Red Dot website, meanwhile, is the leading online travel portal for Sri Lanka providing in-depth information for the independent-minded traveller.