Pedlar's Inn Cafe
Pedlar's Inn is an excellent small café in the heart of Galle Fort, a very good stopover if you're looking for a bite to eat while you catch up with friends, or to take some quiet time reading a book. The café is situated on Pedlar's Street which can be reached from Lighthouse Street or the ramparts.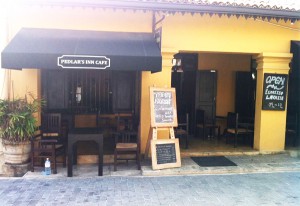 Ambience
The café is popular with locals, foreign expatriates and tourists and has a cosmopolitan and fun atmosphere with a steady stream of guests throughout the day. At breakfast, lunch and dinner it can get busy and you might have to wait for a table while for the rest of the day it is laid-back and the perfect place to sit down with a good book. Seating comes in a variety of forms: you can either lounge on comfortable sofas arranged around tables or on tables and chairs on the verandah or in a nice quiet garden area at the back where you can sit among leafy green trees and enjoy a bit of fresh air.

Food
The menu is simple offering a mixture of Western and Asian dishes with an emphasis on typical café-style food. You can choose from a selection of sandwiches and pastas. We ordered tuna and smoked chicken baguettes. They came with a side of fries, which was unexpected and welcome. Unfortunately, though, the fries were overcooked and too salty for our taste buds. There was also a nice fresh salad.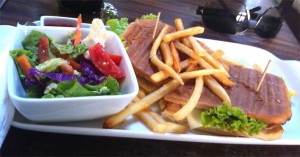 Drinks
We universally decided to wash the meal down with one of the lesser known brands of ginger beer in Sri Lanka, Lion Ginger Beer. It has quite a distinctive flavor and kick compared to the regular Elephant House Ginger Beer and I highly recommend it to anyone who thinks they can handle it. Pedlar's has a wide range of fresh fruit juices as well. The café does not have a liquor licence and therefore does not serve beer or wine.
Other
There is free wi-fi for those wanting to check their e-mails and there is also a good shelf of books to keep you occupied while you wait for the food. Parking is limited as you are inside the fort but this is easily walkable if you are staying inside the fort. The food and location is quite child friendly. The café closes on Friday lunch for prayers