Special stays for your Rajasthan holiday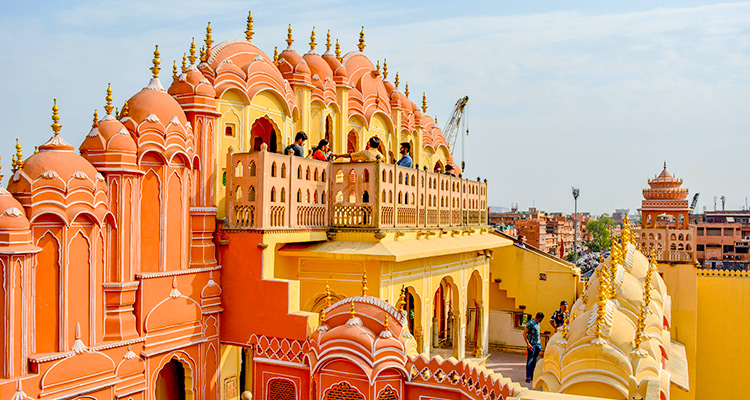 There are many reasons that Rajasthan is an incredible travel destination. Fascinating history and awe-inspiring architecture, bright colours and rich traditions, diverse wildlife and delicious cuisine. What really sets Rajasthan apart, however, is the extraordinary array of holiday accommodation. Heritage houses and the former palaces of maharajas contrast with desert forts and campsites, each more breath-taking than the last. Get inspired with these special stays for your Rajasthan holiday.
Historic Havelis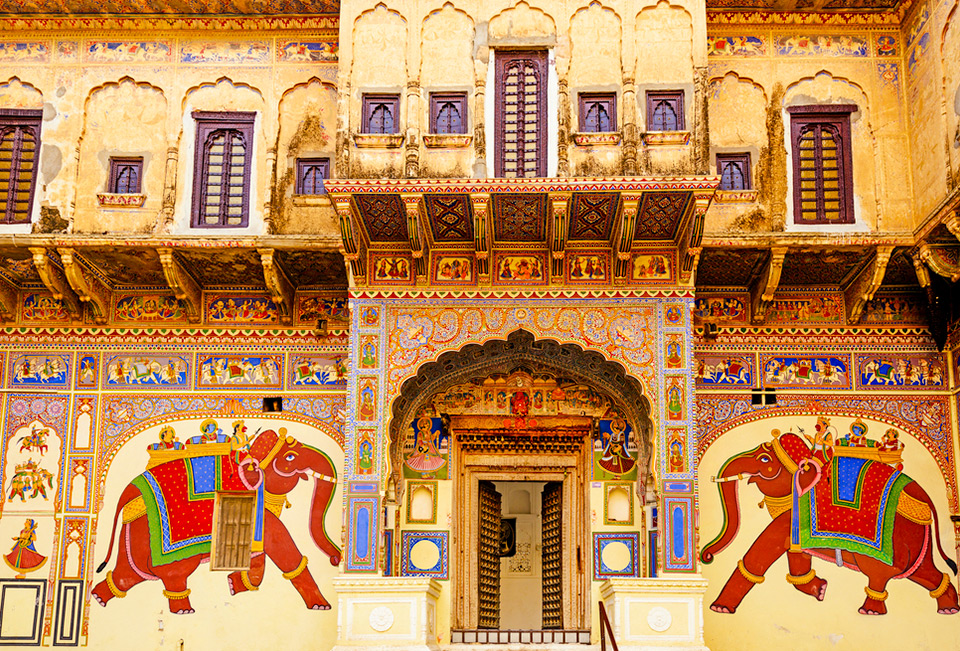 Rajasthan is one of India's most influential states, rich in resources, heritage, and stunning scenery. Evidence of this wealth can be seen everywhere you go, including the historic manor houses in the state's major cities that are known as havelis. Constructed by the high-class Rajput community (powerful land-owning families) during their heyday, many of these havelis have been converted into hotels where tourists can gain a personal insight into Rajasthan's past and present-day culture.
Jaipur is perhaps best-known for its havelis. Homestay meets high-end boutique hotel at these elaborate heritage properties, many of which are still family run but have been renovated to include all of the holiday-stay essentials. An enduring favourite is Dera Mandawa thanks to its authentic design and the chance to watch children flying kites at sunset from the surrounding rooftops. Close by is Pal Haveli, a similar property but on a grander scale with colourful mosaics adorning the walls.
A special haveli to begin or end your time in Rajasthan is Haveli Dharampura in Delhi. Dating back to the late 1800s, much care has been taken to preserve the authentic architecture of this structure which earned the hotel a special mention from UNESCO in 2017.
Grand Palaces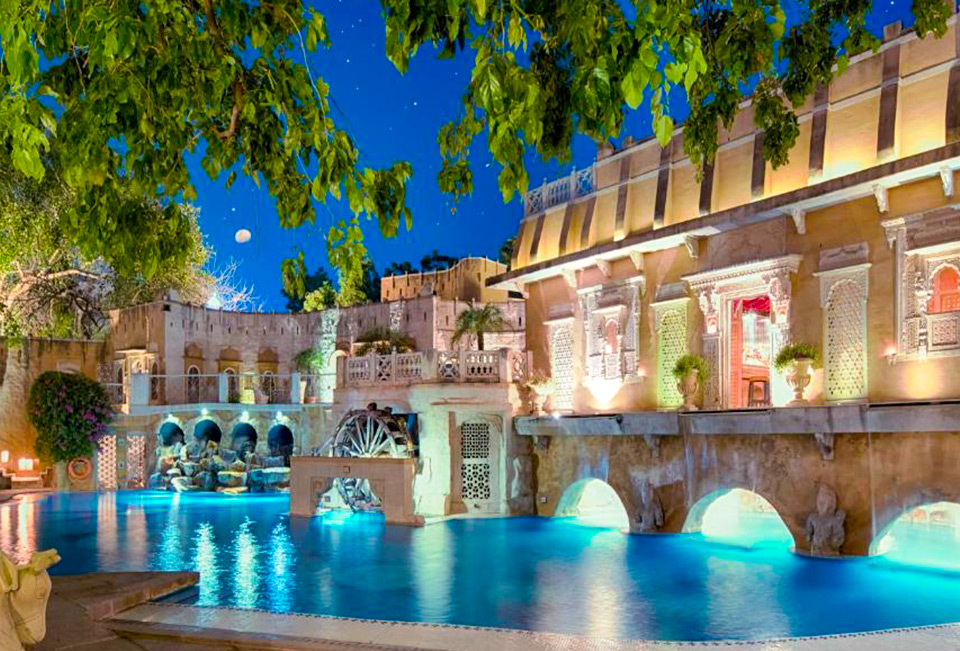 Given its majestic Mughal history and cohort of maharajas ('great rulers') who once governed this area, it is not surprising that Rajasthan is known as India's regal state. These noble families constructed mammoth palaces as their personal residencies, many of which have now been converted into spectacular luxury hotels with unique experiences and unparalleled service.
Ajit Bhawan in Jodhpur was on of the first palaces in Rajasthan to be converted into a concept heritage property. Previously the home of the younger brother to the Maharaja of Jodhpur, this hotel is still adorned with traditional Rajput fabrics and the spacious rooms all have unique period features in addition to all necessary modern facilities. Chunda Palace in Udaipur displays the state's imperial heritage on an even grander scale, with panoramic views of Lake Pichola to boot.
If you think that the palaces are all found in the key cities of Rajasthan, think again. Whether you are only exploring the Golden Triangle or doing a full tailor-made tour of Rajasthan, you have the opportunity to stay at the sensational rural abode Anuraga Palace. This majestic white monument contains 50 rooms and suites in addition to a swimming pool and restaurant, a luxurious base for your relaxation time between tiger-spotting trips in Ranthambhore National Park.
Rural Escapes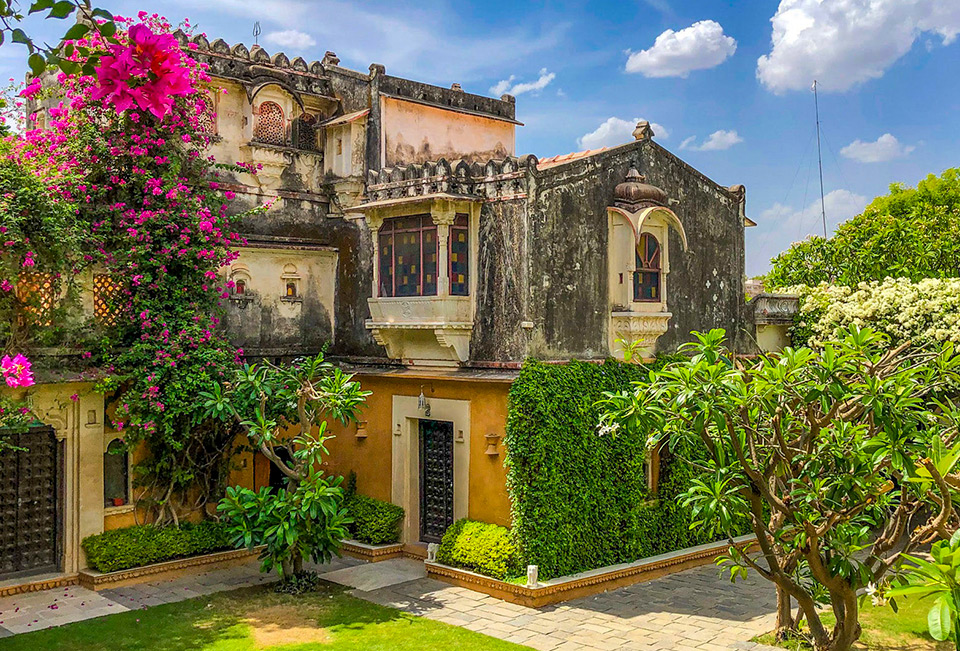 As visitors to the state will discover, Rajasthan is a contradiction of chaotic cities and quiet countryside. Your time in Delhi, Agra, Udaipur and the colourful cities of Jodhpur and Jaipur is balanced with soothing stays in the wilderness, not only in Ranthambhore for exotic wildlife opportunities but also at imposing forts and elevated campsites in the middle of the desert.
Take, for example, Fort Rawla in Narlai between Jodhpur and Udaipur. In the middle of a small village and backed by a towering rock, this 17th-century fort seems strangely out of place but provides welcome comfort in utterly peaceful surroundings. Its stone-walled rooms are still largely the original architecture, with charming heritage features including coloured-glass windows and decorate archways. Unusual experiences are on the cards too, from a 4×4 excursion in search of leopards to destination cooking classes by the side of a lake.
In terms of campsites, Ranthambhore boasts a selection of colonial-style tented accommodation options that hark back to its heritage as a hunting ground. A more remote glamping outfit is Manvar Desert Camp, a collection of air-conditioned cottages grouped around a large swimming pool. Evenings are special, with glorious sunsets preceding varied cultural performances featuring traditional local music and dance.