INSIDE SRI LANKA A monthly insider's report by Royston Ellis, February 2014.
Highest Peak Now Open
The hill country town of Nuwara Eliya has always been a favourite of travellers who want something different after exploring the cultural ruins and exotic beaches of the rest of Sri Lanka. With its colonial bungalows and chilly, misty nights, it seems an anachronism situated within seven degrees of the tropics.
Popular places to visit near Nuwara Eliya include Horton Plains for windswept wilderness and wildlife and the gorgeous beauty of the flowers and bushes in the Hakgala Botanical Gardens.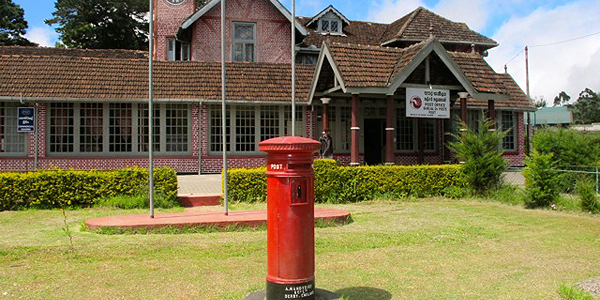 The town itself, with its meandering golf course, raucous fruit & vegetable market, grand tree-lined streets, park and traditional pink post office, offers lots to see and do. Now, after being off limits for decades because of the security situation, Sri Lanka's highest peak, at 2,524m (8,281 ft) above sea level, Mount Piduruthalagala, is open to visitors.

Unfortunately photography is forbidden and visitors cannot hike to the top but must remain in their vehicles because of the very real danger from marauding leopards. Although it's called the Piduruthalagala Conservation Forest, it's still a military base and visitors have to register at the checkpoint before entering. However, there's no charge and the drive to the top through the forest is rewarded with a spectacular view of Nuwara Eliya and its lake.
150 years of rail
This year Sri Lanka Railways celebrates the 150th anniversary of the country's first scheduled train journey. On a sunny day in October 1864, the first train to make a scheduled journey in Sri Lanka steamed into Ambepussa station, 54km from Colombo. Three years later, in 1867, the railway line to Kandy officially opened.
The idea of building a railway in what was then Ceylon and under a British governor, was first mooted in 1845. Then a bullock cart took 12 days to make the 116km trip from Colombo to Kandy. Coffee planters wanted a railway to transport their crop but it was not until 1856 that an ordinance was passed for the construction of a railway line between Colombo and Kandy.
A Briton, W F Faviell, who had previously helped construct railways in India, was contracted in 1863 to begin building the line. It was a difficult job and the 3,000 men constructing it were hampered by malaria and cholera, monsoon rains, floods and landslides as well as rocky, hilly and steep terrain.
The arrival of the first steam engine in Kandy in 1867 happened in the same year that the first commercial tea planting was undertaken near Kandy by James Taylor. The coming of trains and tea to Kandy together was to herald new prosperity as trains provided a means of getting tea to the docks for shipping to England for sale, and tea (when coffee failed) provided the freight that made the train service viable. Today, on a trip to Kandy, tourists can still see the original station that was built in Peradeniya in 1867.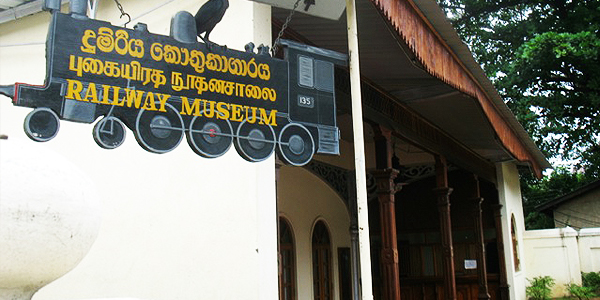 There are relics of the early days of railways to be seen at the small Railway Museum, a short walk eastwards along Olcott Mawatha from Colombo Fort railway station. (www.railwaymuseum.lk). The museum consists of a hall with some railway station furniture, including a Tyers Patent Train Tablet Apparatus over 100 years old, and a station platform called Colombo Terminus. An enormous narrow gauge crane dominates the space, but the main attraction is the three locomotives at the platform.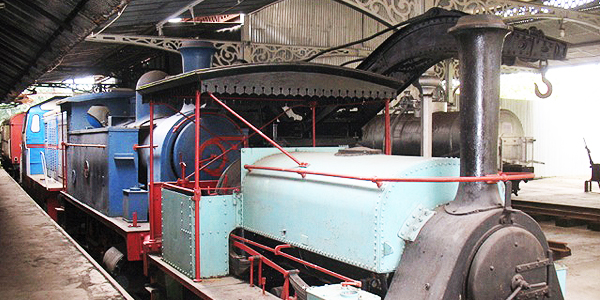 The first is a cute saddle tank steam engine (Class 040ST), probably from the Oil & Fats Corporation, perhaps dating to 1894. The second steam engine is identified as Class 20601 but there was no other information available. The third, Number 727 is a remarkable diesel hydraulic Y1 Class Shunting locomotive. Remarkable because it was originally designed and built locally, and then long lay abandoned until rehabilitated.
Admission is free and the museum is open from 08.00hrs to 16.00hrs every day except public holidays and weekends.
Tropical Oysters
A new aquaculture initiative in Sri Lanka based on an old tradition is successfully creating, and meeting, an international demand for an unusual product: farmed tropical oysters.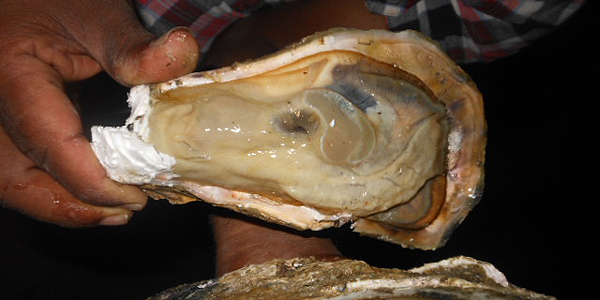 Oysters from Sri Lanka were in demand more than a thousand years ago. They were sought, not for their flesh, but for their pearls. Oysters for food, even though they were protein rich, did not appeal to Sri Lankans. They had to be dried and salted before they would be eaten, even by the fishing families who harvested them.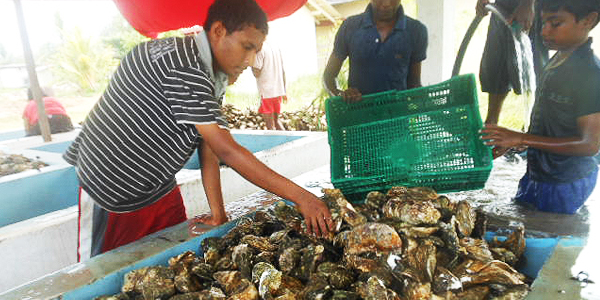 The growing influx of affluent tourists has brought about a new interest in the farming of oysters as a food and revenue crop. This has been boosted by the developing insatiable demand for oysters by discerning diners in the luxury restaurants of Asia, creating a flourishing export trade.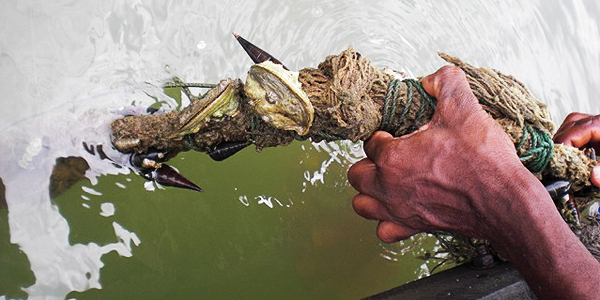 Oyster beds are formed on a 'cultch' and various rough materials for oyster cultches were tested, with the pleasing discovery that coconut shells could be used as their base. Rafts with cultches made from old tires, coconut shells and dead oyster shells, provided a rough surface for the oyster spat (seed) to settle.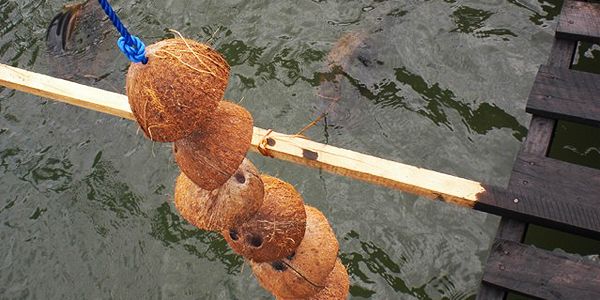 When the spats are sufficiently grown, they are transferred into growing beds in more nutritious areas, such as Bolgoda Lagoon, for fattening to meet export market requirements. After cleansing for impurities and manual cleaning of the oyster shell, the oysters are packed in Styrofoam boxes. With ice, they can survive alive for up to 48 hours in these boxes for transport by air to markets in China, Hong Kong, Thailand and Taiwan, as well as by road to local upmarket outlets.
Tropical oysters from Sri Lanka can be eaten year round. It is estimated that some 10,000 oysters are sold each month in Sri Lanka and around 25,000 per monthare being exported. So, thanks to gourmets, farmed oysters are now bringing unexpected economical benefits to rural fishing communities in Negombo, Puttalam, Trincomalee and Tangalle.
A British resident of Sri Lanka for 34 years, Royston Ellis, is an erstwhile beat poet (his book Gone Man Squared was published in 2013 by Kicks Books of the USA) and author of the Bradt Guide to Sri Lanka. His weekly blog about Sri Lanka is available by free subscription from www.roystonellis.com