The Humanitarian Hero
On Boxing Day 2004 Muttiah Muralitharan slept through his alarm clock. If he had awoken he would have been driving south down the Galle Road and into the full brunt of the Tsunami that was already ravaging southern Sri Lanka.
Instead he was turned back by a policeman as he left Colombo. In his home village of Seenigama on the south west coast of the island Murali's agent Kushil Gunasekera was not so lucky and clung on to his life by seeking refuge in the local temple, having seen his family home destroyed.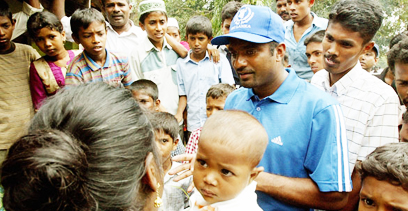 When the extent of the devastation became clear the two men moved swiftly into action. Having already run a successful community centre in the area called the Gunasekera-Muralitharan-Vaas Foundation, they were in a position to do it.
Gunasekera and Murali arranged immediate emergency relief and a colossal fund raising program to bring aid where it was desperately needed and succeeding where world renowned charities failed.
From the tragedy The Foundation of Goodness was born and the legendary off spinner and his agent began a personal crusade of humanitarian work. The relationship between the two is unusual. Gunasekera is a retired businessman who dedicates his life to charitable work and has one client- Murali.
They act as a team in helping their compatriots who need support, very different from the normal commercially inspired relationship between player and agent.
"We desperately wanted to make a difference. So we set up the Foundation. Initially we provided the most basic of requirements: running water and electricity. From this we moved on to providing scholarships for the local kids, workshops for men and women to learn a trade and built a host of sporting facilities," said Gunasekera.
In an era when many high profile sportsmen see a charitable cause as a commercial necessity, Murali has shown an almost obsessive desire to help his fellow Sri Lankan's, giving not just his name, but time and money. Without fanfare he often gives the entirety of his fees for commercial endorsements to the Foundation.
"We are really creating something here. Both Murali and I want people to be able to feel they can thrive in a rural community, and not feel they have to go the big cities. Locals are being trained, given a purpose in life and a sense of pride and the kids just have these big grins on their face all the time", said Gunasekera.
Three weeks after his emotional retirement from Test cricket, Murali is not reaping, with total justification, the huge commercial boons of his success. He is instead with his Foundation's team, who are competing in an Under 15 tournament in Malaysia, supporting and cajoling in his inimitable way that enthralled the cricket world for two decades.
Winners of last year's tournament, the Foundation team fell at the final hurdle this year. Without exception no player had left Sri Lanka before. Many have not visited Colombo some 100 miles north of their homes. Household incomes for the player's families average out at around $250 per month.
Ashan Thuranga played in the inaugural tournament. An orphan by the age of 14, the budding young spinner has had his life turned around by the Foundation and the MCC, who awarded him a scholarship.
"Murali is my hero and friend. I had nothing after my father died and was supporting my sick grandparents. The Foundation has allowed me to play cricket and continue my education. I am coached properly and can practice here (the beautiful Foundation ground) every day". Thuranga was recently selected for the national Under 17 team.
He also turned down a full scholarship to the prestigious St Thomas College, in Colombo, a renowned breeding ground for Sri Lankan cricketers. "My future is here. I am surrounded by family and friends. Murali and the Foundation have given me a chance to succeed in the game I love. I will repay him by giving every ounce of effort I have to representing the full Sri Lankan team. I want to help people like myself by staying here."
Having created a sustainable program in the south, the next project is to recreate the Foundation in the recently liberated north, recovering from 27 years of civil war.
"The plan is that within three years of completion the northern project will have benefitted 50,000 local inhabitants. This will be achieved by the creation of jobs, improved sporting facilities, housing programs and a strong emphasis on education for people of all ages," said Anura de Silva, project coordinator.
In a country that has been deeply divided by an ethnic civil war Murali has sometimes unwittingly been cast as a political figure, being a prominent national Tamil. President Rajapaksa's gifting of the land to the Foundation was one of many fitting tributes to Murali.
"We were gifted more land than we were asked for by the government and for that we are enormously appreciative. To me it shows the enormous esteem in which Murali is held by all Sri Lankans. I am proud that our hard work and success in the south has been recognised," said Gunasekera.
The Murali Cup, an international schools cricket tournament based in Seenigama, will become an annual event from next year. It is yet another innovative scheme to bring funding and aspiration to the children from the north of the island.
Roger Knight former Secretary of the MCC is on the organising committee. "We want Sri Lankan children and school boys from the cricket playing world to be able to enjoy and learn from each other's company. The overseas schools will raise funds that will be distributed by the Foundation of Goodness to sporting projects in the north. "
As Sri Lankan captain Kumar Sangakkara recently said Murali is a national hero for more reasons than just his wickets. "The greatest tribute I can pay him is that I have met no finer man. He's great as a cricketer and even better as a human being."
Article by Richard Browne
As featured in The Wisden Cricketer magazine September 2010 issue.
Richard is a freelance cricket writer based in Sri Lanka.