The North West Experience
The North Western coast of Sri Lanka is a world on its own, offering many experiences that cannot be found anywhere else in the country, and probably even in the world. A few of us "Red Dotters" decided to explore the area, to look at a few new places that have come up in the area. I, personally, had not seen some of the more popular properties, so I was very much looking forward to seeing them first hand.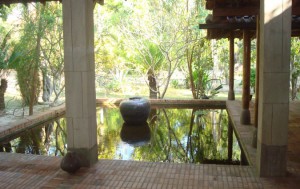 We started off with a brand new property in the town of Chilaw in the North Western coast of the country. Chilaw is well known for its fish market, as well as the prawn farms, which produce most of the high quality prawn of the country. Irana Villa, situated in Chilaw, is the newest addition to the Back of Beyond group of properties, which focus mostly on properties with more of a rustic, homely feel.
We had breakfast here, Sri Lankan style. I must say I enjoyed the meal, as it was just like a homemade one cooked by my Grandma, Jane Nona, at her home in the hills near Gampola.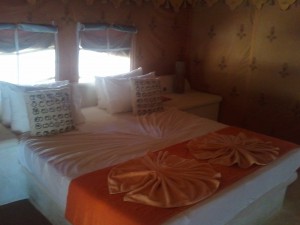 From there we moved on to Kalpitiya, situated in the North Western Peninsula of Sri Lanka, which is most popular for dolphin watching throughout the year, and whale watching during winter. Alankuda Beach is one of the main tourist destinations in Kalpitiya, where many properties in the vicinity work in partnership, to ensure that all travellers will experience much more at Alankuda, than any one property could provide in the whole region.
Dolphin Beach offers luxury accommodation, but with a unique tented feel. They plan to build a pool within the property in the near future, but until such time, guests are more than welcome to use any of the pools in the neighboring properties such as Bar Reef or Palagama Beach.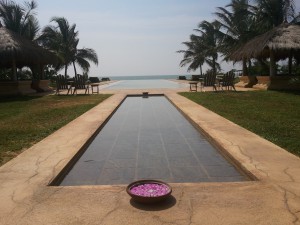 You can either take a short walk, or use the hotel's 'Tuk Tuk', which is free of charge to any guests who want to visit neighbouring properties. In the same way, Dolphin Beach has an authentic pizza oven, which is the only one in the area, and they will deliver orders to any other property too, if guests in other properties have a craving.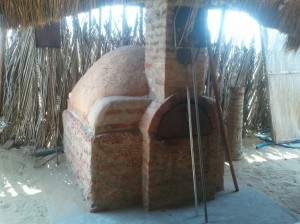 All the properties in Alankuda Beach are different to one another, but similar at the same time. The properties we visited include Udekki and Kohomba House as well. Kohomba House is sold as a unit, for families or friends traveling together. If we had to rank them, I'd say Bar Reef and Dolphin Beach would be at the top of the list, though Palagama Beach, Udekki and Kohomba house too are not that far behind, offering vibrant and interesting accommodation options. All the properties are managed very well, with the service friendly and at a very standard.
Our next stop was at Palpatha, situated around twenty minutes from the Wilpattu National Park, where we stayed the night. The staff here too was very friendly and accommodating of all our queries.  There is no electricity in the area for now, but all-in-all, it was not really missed. Instead of another night stuck in front of the TV we had a river bath in the evening followed by a small bonfire and a barbeque.
There is a mini power outlet in all of the rooms, which are solar powered. These units can charge mobile phone via USB, and they also supply power to LED lights in the evenings. Palpatha also boasts the 'tented camping experience', so there is no air conditioning, or fans in the rooms.
This came to us as a bit of a surprise, as we expected it to be quite humid throughout our stay there. However, we could not be more wrong. In contrast to the average temperatures of 27 degrees that we usually experience in Sri Lanka, early mornings in Wilpattu see temperatures of a cool 18-20 degrees. 18-20 degrees is very cold for Sri Lankans, who have grown accustomed to the humidity all our lives. We woke up at five in the morning, so that we could go for a jeep safari in the Wilpattu National Park. We put on the warmest clothes we could find – still lightweight by some European standards and left for the park.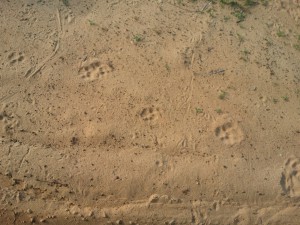 Having been to almost all the National Parks in Sri Lanka except for Wilpattu, I personally did not expect to have an experience to match that of the Yala National Park. How wrong could I be?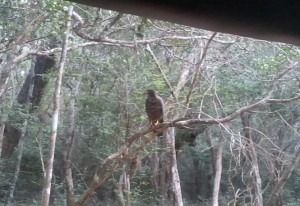 We had not even traveled a kilometre into the park, when we spotted a fully-grown leopard crossing the safari track around one hundred metres ahead. I was amazed to see a leopard so large in size, as well as so very different to leopard seen in the Yala National Park. The whole experience altogether was the best safari experience I have had up to date. The park itself is beautiful, and our tracker was very knowledgeable, sharing many interesting stories about his experiences in the park. I believe that people would have an experience to match that of the Yala National Park, if not better.
Our next stop was at The Mud House, an old favourite of the Red Dotters. They have made a few new upgrades to their property which include improvements to current accommodation, as well as more rooms and a yoga centre to be completed soon. New features include electricity in some mud houses and cabanas, and 'the agricultural experience', where almost all vegetation is grown in the property itself and also allows guests to take part, if they like to. Activities in the property include cycling, bird-watching and kayaking, which ensure that we would not forget our visit to The Mud House for a long time.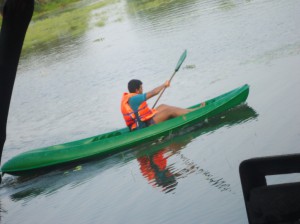 The last property of our visit to the North Western coast was Cadjan Earth, set on a one hundred acre land. The lake house looks very nice, ideal for a family traveling together. The other unit, situated around 100 meters away is called the Tree House, which can also accommodate a family. I felt that this was the ideal place to complete our visit, to show us, as well as other travelers, that all areas of Sri Lanka has so much to offer.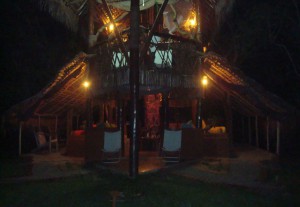 So back to work, for us Red Dotters, the only difference being that we now want travelers to see what we saw, experience what we experienced, in the North Western coast of the land we love.