Tuk-tuk Polo – Not for the fainthearted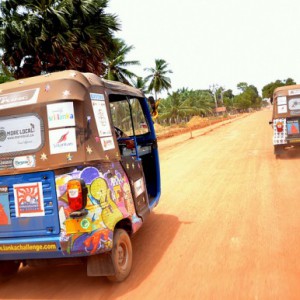 What do a bunch of Tuk-tuks and two goal posts have in common? Well, nothing that I can really think of, which is why the world's first ever Tuk-tuk Polo tournament will definitely be a spectacle you wouldn't want to miss!

Those fortunate enough to be in the Galle Fort in early March will have been able to watch practice sessions for one of the most curious events surely ever staged between the old walls.
The event featured two teams each consisting of three tuk tuks, with their own passenger/ player who was expected to make use of the driver's exceptional maneuvering techniques along with some exceptional hand-eye coordination to whack a ball into the opposition's goal.
The one-of event has been organized by the Ceylon Polo Club.