Scuba Diving in Sri Lanka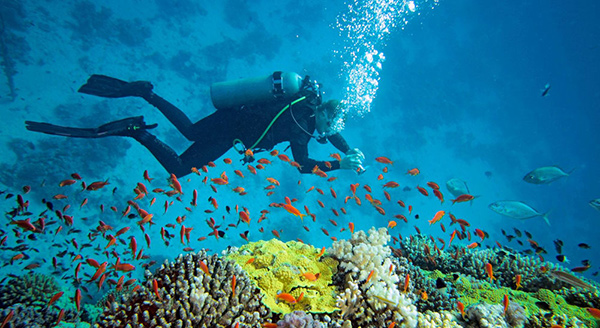 Sri Lanka has several fantastic scuba diving spots along its west and south coasts, as well as some in Trincomalee in the north-east. From mysterious shipwrecks and distinctive rock formations to a variety of marine life, including numerous species of brightly-coloured tropical fish, eels, marine turtles and sting rays, exploring the island's underwater world is highly rewarding. Below we have outlined the best dive sites between Kalpitiya in the north-west and Sri Lanka's southern-most point. This stretch of coastline is in season from November – April.


Weligama
Situated in the Deep South, Weligama is excellent for snorkelling and diving with beautiful undersea rock formations and a variety of marine life. The dive sites include Mirissa Point, Bridge Rock, Yala Rock, and Prince Heinrich Patch. There is also a 40km reef known as The Basses which starts 20km south east of Kirinda and extends right below Kumana. With sandstone reefs, ravines, pillars, pinnacles, caves, crevices and ship wrecks, The Basses is considered the best diving site in Sri Lanka.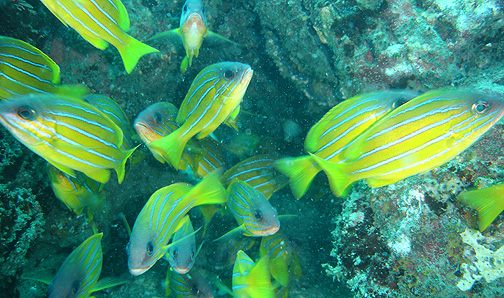 Unawatuna
Diving in Unawatuna is fascinating, with diving sites consisting of rocky formations and black coral, many ship wrecks and numerous varieties of fish.

Hikkaduwa
Hikkaduwa is an interesting youthful coastal town and has about 20 dive sites within easy reach. There are also PADI dive centres, so if you're staying in Sri Lanka long enough you could get your license here. A deep rocky formation called Deep Rock, Kiralagala, and the ship wreck Conch are interesting dives.




Negombo
Diving sites are divided into two sections in Negombo – closer dive sites, which are within 8km from the shore, and Third Reef which is about 22km from the beach. In all sites, numerous species of fish, marine turtles, Moray Eels and sting rays can be spotted.

Kalpitiya
February through April is the best time for diving off Kalpitiya. The Bar Reef that surrounds Kalpitiya has intricate nooks and crevices and is ideal for spotting Moray Eels, large Grouper Fish and Sting Rays.