Sri Lanka – A Surfer's Guide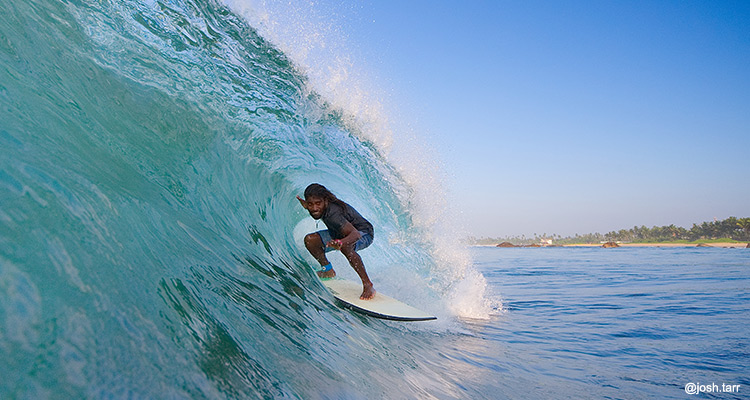 As an island nation, Sri Lanka offers the visiting surfer a unique combination of cultural experiences, natural wonder and near endless surfing opportunities. Read on to discover when and where to go for that surf trip of a lifetime.
The first thing to know is that despite its small size, Sri Lanka has two distinct monsoon seasons. The west experiences rough seas, frequent rain and strong onshore winds from May to November, during which time the east is hot and dry. From October to April the east experiences monsoon conditions while the west is sunny and humid with light winds.
Storms in the Antarctic Southern Ocean send waves for thousands of kilometres before they reach Sri Lanka's tropical shores. Due to the direction of these swells, the best of the surf is confined to the south-west, south and south-east of the country.
The waves on the island rarely get over head-high, with most days during the surf season offering up beautiful waist-to-chest-high peelers. These conditions make a surf trip to Sri Lanka a great choice for experienced surfers as well as those trying the sport for the first time.
We've picked a selection of Sri Lanka's best surf spots for you, including a few locations that the guide books often overlook.
SOUTH-WEST/SOUTH COAST:
Main Reef – Hikkaduwa
One of the first surf breaks to become popular in Sri Lanka, Hikkaduwa's Main Reef is a real wave magnet, creating consistent left and right waves over a rocky reef with barrel sections when bigger. Though Main Reef is best suited to intermediate to advanced surfers, closer to the shore there is a gentle beach break which is ideal for learning. Hikkaduwa itself is a well-developed beach town with a vibrant social scene, and has several other surfing alternatives nearby, even if it is not quite as on-trend as some of the other coastal towns and villages further south.
Insider tip: Narigama Beach can be quieter and is a good spot to learn to ride your first wave
Dewata Beach – Galle
Set back from the hustle and bustle of the main road into Galle, Dewata Beach offers up gently breaking lines of bubbling white water, perfect for the beginner surfer to hone their skills. This is one of the few spots that is surfable during the south-west monsoon season as the protective Rumassala headland shelters the beach from the worst of the wind. There are plenty of places to take a lesson and hire boards here.
Insider Tip: Visit the Japanese Peace Pagoda on Rumassala headland for a spectacular spot to watch the sunset.
Dalawella Beach
Directly in front of the famed Wijaya Beach Restaurant you will find both left and right breaking waves over a bottom of sand and rock. Not the best spot in the area but fun all the same, and you'll find a friendly group of local surfers here, most of whom work at the restaurant. The beach is beautiful, as are the sunsets behind the bay's 'Frog Rock'.
Insider Tip: Bring your snorkel as the shallow lagoon next to the surf break is often visited by green sea turtles.
South Beach – Kathaluwa
A brilliant place to escape the crowds, South Beach is heaven for the longboard surfers among us. With an easy paddle-out and broad softly breaking waves over a deep water rocky reef, it's a great location to get to grips with surfing in the tropics.
Insider Tip: A good spot to check if the waves get too big everywhere else.
The Rock – Kabalana
One of the best surf breaks in the area, waves refract around an offshore rocky outcrop to produce long powerful lefts and rights. Better suited to intermediate to advanced surfers, there is a sandy beach break for beginners to practice on closer to shore.
Insider Tip: Bring some cash and rehydrate with a king coconut on Kabalana's wide golden sands.
Sticks – Ahangama
Named after the fishing stilts that line the shore, Sticks is a fun spot with peeling left and rights over a rocky bottom. There is no beach here so it's best left to more experienced surfers.
Insider Tip: This is a popular break so arrive at dawn for a quieter surf session.
Marshmallows – Ahangama
As the name suggests, the waves at Marshmallows are light and fluffy, ideal for bigger boards and beginners. Located behind the Insight Hotel in Ahangama, this spot has gained popularity in recent years. The town itself is home to a thriving surf community and associated boutique hotels, cafes and restaurants.
Insider Tip: Looking towards Ahangama from Marshmallows, you'll see lots of smaller surf breaks to explore.
Devil's Island – Goviyapana
Devil's Island provides a stunning backdrop to this lesser-known surf spot. The left and right peeling waves are fun for the intermediate to advanced surfer, but again there is no beach here, so it's not suitable for beginners.
Insider Tip: Watch out for urchins in the shallows.
Lazy Left – Midigama
Discovered by travelling surfers during the 1960s, Lazy Left was one of the first places to be surfed in Sri Lanka. Today it is extremely popular, with gently peeling left-breaking waves and an easy paddle-out making it accessible to all.
Insider Tip: If Lazy Left is busy, check out Lazy Right on the other side of the bay.
Ram's – Midigama
Named after the former owner of Ram's Guesthouse which backs onto the break, Ram's is one of the most technical waves in the area, creating steep barrelling right-breaking waves over a shallow, rocky reef. You need to have a good understanding of reef surfing and surf etiquette before paddling out, so this one is best left to the advanced surfers.
Insider Tip: It can be competitive in the water here, but a relaxed attitude will guarantee a great surf.
Plantations/Coconuts – Midigama
The adjoining surf breaks of Plantations and Coconuts suit intermediate surfers well. Popular with local surfers and tourists alike it can be crowded but there is usually lots of space and plenty of waves to go around. Take care when entering or exiting the water as a rock reef lines the shore.
Insider Tip: Join the locals for a game of cricket at sunset on the village green in front of Coconuts.
Jungle Beach – Weligama
On the outskirts of Weligama, Jungle Beach is quieter than most surf spots in the area. The waves peak about 100 metres offshore over a flat rock reef and break gently left. A good spot for bigger boards.
Fisherman's Reef – Weligama
A 500 meter paddle from Weligama's harbour will reward you with perfectly peeling right-hand waves that are fun for all surf-craft. Though there is little current to deal with, the length of the paddle-out demands that it should only be attempted by confident surfers.
Insider Tip: Hitch a ride on one of the outgoing fishing boats to save your arms.
Weligama Bay – Weligama
The 2 kilometres of Weligama beachfront is home to numerous surf schools, all taking advantage of the ideal conditions for beginner surfers that are created by the gently sloping sands. Able to handle hundreds of surfers simultaneously, Weligama is another year-round surf spot with the shape of the bay refining even the most unruly conditions during the monsoon.
Insider Tip: Check out Weligama town for a slice of real local life.
Mirissa Point – Mirissa
Another iconic location, the photogenic headland behind this right-hand point break provides a scenic backdrop to any surf session. Well-known and ever popular, you'll need to get up early to catch it without a crowd, but those who do will be richly rewarded.
Madhia – Matara
A high-quality left-hander that has both open faces and barrel sections. The standard of surfing on display here is generally quite high, so it's best avoided by beginners.
Insider Tip: There are a couple of other spots in the nearby Polhena area that are also worth exploring.
Hiriketiya
A relatively unknown spot a decade ago, in recent years Hiriketiya has become the hub of the south coast surf scene. Its stunning horseshoe-shaped bay and golden sands attract surfers and beach-goers alike. The easy paddle-out takes you out to what is probably the most beautiful surf spot on the island. Suitable for beginner to intermediate surfers, as well as advanced surfers on bigger days.
Insider Tip: Hiriketiya sits on the border between the east and west of Sri Lanka, and can still produce good waves even during the west's monsoon season.
Tangalle
Our last stop along the south coast is Tangalle, an area with many beaches and bays that offer surfers a real sense of exploration. Far less documented than the rest of Sri Lanka's surf spots, Tangalle is a place where you can still find solitude and discover some hidden gems off the beaten track.
Insider Tip: Start at Unakuruwa and work your way towards Tangalle from there. Seek and you shall find!
SOUTH-EAST COAST:
Main Point – Arugum Bay
The epicentre of Sri Lanka's east coast surf scene, Arugum Bay's Main Point has played host to a raft of international surfing competitions over the years. This right-hand point break offers up long rides with playful sections for manoeuvres and steeper sections for speed. Always busy with both locals and tourists, the crowds are worth enduring to experience one of the best waves on the island. Aragum Bay is very much a surfer town with a buzzing social scene. There are plenty of accommodation and restaurant options to suit all budgets.
Insider Tip: Don the sun protection and surf in the middle of the day when there are fewer people in the water.
Baby Point – Arugum Bay
As the waves from Main Point wrap further into the bay, they decrease in size and power, becoming more manageable for the improver surfer. Even those just able to get to their feet are rewarded with long rides at this beginner-friendly spot.
Pottuvil Point – Pottuvil
The next town north of Aragum Bay is Pottuvil, home to the super-fun Pottuvil Point, the longest wave on the island. This reeling right-hander can produce rides of up to 800 metres on good days and is normally a little quieter than Main Point.
Insider Tip: Bring water and supplies to the beach as there are no shops close by.
Whisky Point
A little further up the coastline from Pottuvil you will find Whisky Point, another right-hand point break. This one is better suited to beginner to intermediate surfers as the waves are generally a little smaller and gentler than in Aragum Bay. There is no town or village here but there are a number of small beach restaurants serving the visiting surfers.
Insider Tip: The infamous Whisky Point parties are held every Friday night during the surf season.
Lighthouse Point
Escape the crowds by driving 45 minutes north of Aragum Bay to Lighthouse Point. Similar to Whisky Point, this is a fun right-hander point break accessible to all abilities.
Elephant Rock
The first stop south of Aragum Bay is Elephant Rock, a consistent right-hander point break. It can get crowded on weekends but is quieter during the week. More sheltered than its neighbours, it's ideal for beginner and intermediate surfers. You will need to walk about 15 minutes from the closest parking to reach the beach.
Insider Tip: Do not enter the lagoon behind the beach as crocodiles lurk beneath the surface.
Peanut Farm
Named after the surrounding peanut farms, this is another fantastic wave on the right day. Actually comprised of two linked right-hander points, each offers good waves for intermediate to advanced surfers over a sand and rock bottom. When the swell is a good size, the points combine to create long rides with barrelling sections. Stay well clear of the elephants who occasionally roam the beach.
Insider Tip: Access is via a long, narrow dirt road requiring a tuk-tuk, scooter or off-road vehicle.
Okander Point
One of the most remote surf spots in Sri Lanka, Okander is an hour south of Aragum Bay on the border of Yala National Park. Those willing to make the effort will be rewarded with a unique right-hand point break setup where the waves begin breaking over an unusual rock formation. Frontier surfing at its finest.
Insider Tip: Bring everything you will need including water, food and spare equipment. There is nothing around except monkeys, elephants and lizards.
There are still plenty of opportunities for the wandering surfer to explore the Sri Lankan coastline beyond the locations we mention above. With warm water, fun-sized waves and the promise of adventure, why wait to discover this tropical surf paradise?
For those looking for some guidance in the ocean, check out the Red Dot Tours Surf Lesson. Held on Weligama beach, it's perfect for those new to surfing, as well as more experienced surfers hoping to improve their skills.