Posted by Jennifer Hopps on February 27 th, 2017
in
Accommodation
When you're looking to holiday in Sri Lanka, now acclaimed as one of the hottest travel destinations in the world, you may think that escaping the tourist trail can be hard, whether you are headed to the sunny beaches, national parks or lush hills of the tea country. But, if you are seeking to escape the crowds, there are many lesser known delights in Sri Lanka undiscovered by most who visit this teardrop island. These hidden gems rarely fail to satisfy the adventurous, thrill-seeking traveller – here's a rundown of some of our favourites:
Posted by Jennifer Hopps on February 03 th, 2017
in
Accommodation

by Aadil Fawme

When you search the globe for an exotic romantic getaway, look no further than Sri Lanka, a mystic island gem trapped in the majestic Indian Ocean that is undoubtedly one of the top honeymoon destinations in the world. Sri Lanka is a popular destination for a romantic holiday because there's a lot to see and do – as well as an abundance of secluded beaches, the welcoming people, diverse history, adventure tourism and varied landscapes attract couples seeking an exciting and fulfilling start to the next chapter of their lives.

Planning a wedding can be tough – there's so much to do! – so once it's over you definitely deserve a relaxing honeymoon. One of the best ways to unwind is to escape to an undisturbed beach paradise, where you can lie back and bask in the sun, soaking in some good old vitamin D. Honeymoons are special and spending it by the beach, watching the waves caress the shore, sets the perfect romantic mood. Here are our top 5 picks of the some of the best beaches to visit during your honeymoon.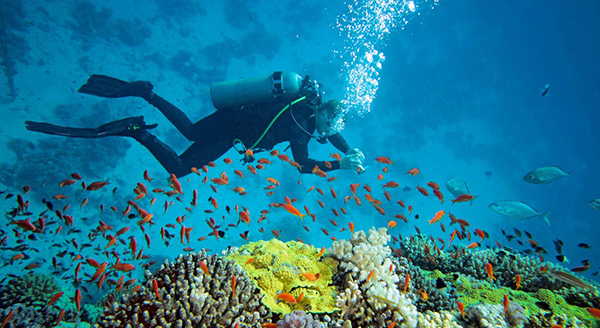 Sri Lanka has several fantastic scuba diving spots along its west and south coasts, as well as some in Trincomalee in the north-east. From mysterious shipwrecks and distinctive rock formations to a variety of marine life, including numerous species of brightly-coloured tropical fish, eels, marine turtles and sting rays, exploring the island's underwater world is highly rewarding. Below we have outlined the best dive sites between Kalpitiya in the north-west and Sri Lanka's southern-most point. This stretch of coastline is in season from November – April.