Sri Lanka's monsoon weather patterns are such that one half of the island's coastal waters are always in season for water-sports. From white-water rafting to scuba diving, the island is ideal for many water-sports and boasts one of the top ten surf spots in the world. Below are some useful hints and tips for those seeking some aqua-adventure in their holiday. For more information on these water-sports, Sri Lanka and our company, visit www.reddottours.com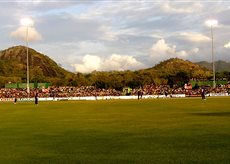 After five years, Australia's cricket team is returning to Sri Lanka. Their tour of the island begins on 26th July and will run for six weeks, during which the team will play five ODIs and two T20s, as well as the three test matches.
Sri Lanka will be keen to prove themselves on their home turf, especially in light of their recent disappointment in the World T20. The reigning champions were knocked out in the quarter finals following a dramatic clash with England where they were defeated by ten runs. During their last tour of the island in 2011, Australia won the series 1-0 after the teams drew 2 out of the 3 Test matches. Of the 13 Tests the team have played in Sri Lanka, Australia have won six and lost only one, in 1999.
The tour will – unusually – begin in Pallekele (near Kandy), a move made to reduce the risk of the test clashing with the historic Kandy Esala Perahera. This is a Buddhist festival held in annually in August, during which the sacred tooth relic of Lord Buddha, usually housed in Temple of the Tooth, is paraded through the streets.
They will also be playing at grounds in Dambulla – part of the Cultural Triangle – and Colombo, as well as the Galle International Stadium, which boasts views of the Indian Ocean and the iconic clock tower of the 16th century Dutch fort.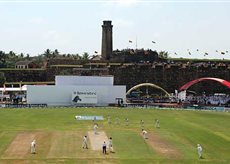 Whilst Sri Lanka does indeed have a peak season – December – March – the rest of the year should not be regarded as the island's off season. At whatever time of year you visit Sri Lanka, you will find sunshine, beautiful beaches and a host of wondrous cultural and wildlife experiences. There is never a bad time to visit Sri Lanka – read on to find out why coming during Sri Lanka's 'off season' can be the best choice.
To make an enquiry, or to find out more information, visit www.reddottours.com